Far Hills, NJ

Family Time, Digging Deeper, Plant Sale, Water feature, Meadow, Edibles, Open Days
The extensive gardens of the Hay Honey Farm lie nestled between rolling hills along the North Branch of the Raritan River. The transition from cattle farm to garden began in 1989, and while Black Angus cattle still graze the nearby hayfields, honeybees have become the only 'livestock' allowed within the gates. Over the years, a wide variety of plant material, including hundreds of trees and shrubs, has been carefully added to the landscape in a naturalistic manner, with a respect for the history and topography of the site, and consistent with the broader surrounding atmosphere of Pleasant Valley. The plant collections reflect the diverse interests of the owners and the resident horticulturists, and show the results of a long term vision and dedicated horticultural attention to plant care. Garden areas created near the homes include a dwarf conifer/spring bulb garden, a large walled perennial border, hosta gardens, a native meadow, and a large kitchen garden.

Year-round springs feed a small stream which originates in the wild garden, and flows through a collection of rhododendron and companion wild flowers and woodland plants. The opposing bank features a flowering shrub walk, where more full-sun-loving assortments of lilacs, weigelas, and viburnums are flanked by an impressive Dawn Redwood and other specimen trees. Paths through the fields and woodlands highlight collections of unusual maples, oaks, firs, hollies, and other hardy trees and shrubs, many seldom seen outside botanical gardens. Featured in the recently published Gardens of the Garden State and designed for interest in every season, the gardens will surely bring the visitor a sense of calm connection to the beauty of nature.
Directions: From I-95/New Jersey Turnpike, take I-78 West. Then take I-287 North to Exit 22B (or Exit 22 if coming from north). Stay on Route 206 North. At fourth traffic light, turn right onto Holland Avenue. At end, turn left onto Peapack Road. Turn right onto Willow Avenue. Go 1 mile and turn left onto Branch Road. At 0.7 mile, cross the green steel bridge onto a private gravel road. Follow signs to park at The Hay Honey Farm.
Open Days 2017: May 13 & September 09.
Hours: 10 a.m. to 5 p.m.
Admission to this garden is $7 for members and nonmembers without tickets purchased in advance.
Buy discounted admission tickets in advance! They never expire and can be used at most Open Days to make garden visiting easier.
Nonmembers get 6 visits for the price of 5 with advanced ticket book purchase.
Members get 50% off ONLY by purchasing ticket books in advance.

Experts in the Gardens! At Hay Honey Farm in Far Hills.
September 9 at 2 p.m.
Take a walk with gardener Michael Clayton, the man who planted most of the trees at the Hay Honey Farm. We'll walk to some of the less visited portions of the farm, and discuss some of the more unusual trees grown here, including many mid-canopy trees often lacking in modern landscapes. Topics such as site selection, exposure, and root zone requirements will be touched upon, as you get an up-close view of many horticultural treasures.
Garden admission is $7 per person and children 12 & under are free. There is no additional fee for this program, but registration is required and space is limited.
Call 1(888) 842-2442 or email opendays@gardenconservancy.org to register.
Save
Save
Save
This garden allows photography
---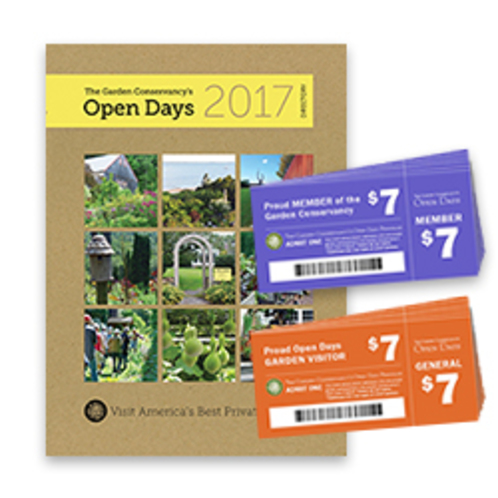 Order Books & Tickets!