Our recent general news features are listed below.
For preservation news, click here.
For Open Days news, click here.

We talked with architect and our Society of Fellows member Gil Schafer about the synthesis of architecture and landscape. Find out what he had to say.

In All the Presidents' Gardens, garden historian Marta McDowell traces how the White House grounds have grown with America, from Madison's cabbages to Kennedy's roses. Read more about the nation's First Garden.

Billy Krimmel of Restoration Landscaping in Sacramento, CA, won our award at the San Francisco Flower & Garden Show in March. Read more.

In February, we sat down with Daisy Helman, founder of Garden Collage and a member of our Society of Fellows. See what she had to say.

On March 3, Longwood Gardens and the American Society for Horticultural Science announced the launch of Seed Your Future. Read more.


Marco Polo Stufano received the Royal Horticultural Society's Veitch Memorial Award in London on February 26. Read more.
Outstanding American Gardens: A Celebration — 25 Years of the Garden Conservancy
We celebrated our 25th Anniversary with a beautiful book that showcases fifty outstanding public and private gardens. The book was released by Abrams on September 22 and showcases eight gardens we have helped preserve and 42 of the more than 3,000 private gardens across the country that have been opened to the public through our Open Days program. Read more in media kit.
---
EARLIER NEWS FEATURES READ MORE
Press Coverage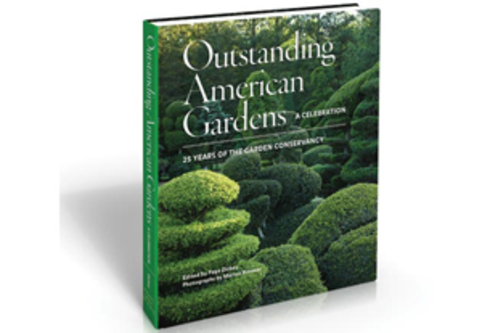 Our Silver Anniversary book is the perfect gift for gardeners!
A few personal perspectives
Why Save and Share Gardens?