Congratulations to Lynden Miller, who was honored by the New York Landmarks Conservancy at their 25th anniversary Living Landmarks Celebration on November 1.

Great news for Stoneleigh Garden in the Philadelphia area! The Lower Merion School District will not build athletic fields on the Stoneleigh property, as reported by Phildadelphia CBS Local on November 20, 2018.

Steepletop, the home of esteemed poet Edna St. Vincent Millay in Austerlitz, NY, has closed indefinitely, reports the Hudson Valley 360.

Videos of our panel discussion on the challenges of preserving "The Architectural Garden" are now available to watch online! If you missed the discussion at Bard College on September 22, 2018, you can listen to it now. Photo, left to right: Sarah Vance, the Blue Garden, Newport, RI; Stephen Byrns, Untermyer Gardens Conservancy, Yonkers, NY; and Judith Tankyard, author and garden historian

We recently chatted with Lucy and Nat Day about their love of topiaries, sharing their garden for the last time, and what being a part of the Garden Conservancy Open Days program has meant to them. Read the excerpt from our September Society of Fellows e-newsletter

Gravitas Ventures, the distributor of The Gardener film in the USA, is releasing it on DVD and video on demand on September 18, 2018. More details are available on the film's website. The Gardener is a documentary about Frank Cabot, the founder of the Garden Conservancy, and his garden at Les Quatre Vents in Quebec.

Garden Conservancy board member Jorge Sánchez was featured in the July issue of our Society of Fellows e-newsletter. Jorge will be presenting three talks this fall for our speaker series, Saving American Gardens.
Charity Navigator has awarded the Garden Conservancy a four-star rating—its highest possible rating—for demonstrating strong financial health and a commitment to accountability and transparency. Read Charity Navigator's July 1, 2018, letter.

Our Fall Speaker Series kicks off on September 12 in New York City, when John Danzer of Munder-Skiles presents "A Place of Repose: Preserving America's Garden Furniture History." Save these dates! Photo: Beatrix Farrand chairs and tea table at Dumbarton Oaks. Courtesy of Munder-Skiles

Five Seasons—The Gardens of Piet Oudolf, a new film by Thomas Piper, premiered in New York City on June 13. Find out more about the film

Lotusland is celebrating its silver anniversary this year, including a series of Gardens of Paradise tours. Read more.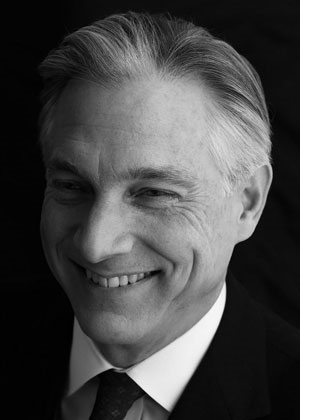 Get to know architect Douglas Wright, subject of our Focus profile in our Society of Fellows May enewsletter.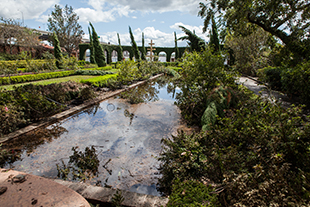 In Jacksonville on Saturday, April 14, 2018, James Brayton Hall announced that the Garden Conservancy will donate $20,000 to the Cummer Museum of Art & Gardens to help the Cummer restore its gardens. The three gardens, listed on the National Register of Historic Places, suffered significant damage when Hurricane Irma hit Jacksonville last September 11. The announcement was made the evening of our Jacksonville Open Day, which was presented in partnership with the Cummer Museum.

Nord Eriksson's drought-tolerant garden was featured in a Los Angeles Times article on our April 22 Open Day in Pasadena. Photo by EPT Design, Inc.

Louise Agee Wrinkle, a Garden Conservancy director emerita and author of Listen to the Land, was featured in the Fellows Focus of the February edition of our Society of Fellows enewsletter.

The Garden Conservancy was deeply saddened to hear of the death of our board member Antonia Hunter Breck on February 21, 2018. We have all lost a wonderful friend.

We are thrilled to announce the US release of The Gardener, a full-length documentary about Garden Conservancy founder Frank Cabot, on March 28, 2018.

East Bay Times, Walnut Creek, CA, reported on the daylong celebration of Ruth Bancroft's life at the Ruth Bancroft Garden on February 17, 2018. Photo by Ray Chavez/Bay Area News Group

Kick off the garden season with our Open Days Digging Deeper spring lecture series in Millbrook, NY! Read more.
---
Press Coverage
A few personal perspectives
Why Save and Share Gardens?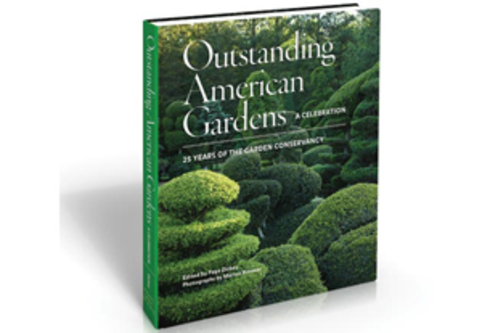 Our Silver Anniversary book is the perfect gift for gardeners!