A few highlights of media coverage of Garden Conservancy programs and those of our partners nationwide

James Brayton Hall, President and CEO, was interviewed on KSFO "Bob Tanem in the Garden" with Edie Tanem where he discussed The Garden Conservancy and the organization's connection with gardens in San Francisco, CA. Listen to the show on the radio's archives.
The Anne Spencer House & Garden Museum (above), in Lynchburg, VA, and the Ruth Bancroft Garden, in Walnut Creek, CA, were among Veranda magazine's "30 Most Beautiful Gardens in the World."
Wine & Country featured Garden Conservancy board member and Society of Fellows member Elizabeth Locke's garden, dahlia tips, and favorite dahlias in an article entitled "Elizabeth Locke's Secret Dahlia Garden." (October 8)

The REACH at the John F. Kennedy Center for the Performing Arts was featured as the cover article of the September issue of Washington Gardener magazine. The article included quotes from Garden Conservancy president and CEO James Hall and highlights from our program "The New Kennedy Center Gardens," at the REACH on September 8.
The Register Citizen, Sharon, CT, featured our July 10 Litchfield County Open Day. (June 29)

Janet Mavec's blog featured an interview with landscape architect Joseph Marek, a member of the Garden Conservancy board of directors, rose hybridizer, and chair of our Open Days Committee, in "The Plant Nut: Joseph Marek." (June 29)

The Garden Club of the Back Bay included announcements of our July 10 Martha's Vineyard Open Day and our July 24 Bristol County Open Day and Digging Deeper program with Nan Sinton on the garden club's blog. (June 25; June 28)

The Keene Sentinel, Keene, NH, featured the return of our Open Days program to New Hampshire's Monadnock region in "Let's drop our trowels for a day and go take a look at... Other People's Gardens...." (June 24)

The Newtown Bee, Newtown, CT, reported on our June 5 Open Day at Jean Sander's garden in "A Rare Look at a Private Sandy Hook Garden." (June 15)

The Journal Sentinel, Milwaukee, WI, announced our Milwaukee Area Open Day on July 31 in "Garden tours in Milwaukee area gain extra luster from a year of at-home living." (June 3)

Garden writer, Garden Conservancy board member, and Open Days program co-founder Page Dickey reflected on her garden and current Covid-19 challenges in Berkshire Style. (May 19)
Ceramist and Garden Conservancy board member Christopher Spitzmiller was featured in the New York Times article "Cultivating the Growth of a Lifestyle Pundit." (May 13) Christopher, Clove Brook Farm, and his new book were also highlighted by Martha Stewart in Town & Country magazine. (April)

The Milwaukee Art Museum's recent blog post about the 100th anniversary of the its Garden Club mentioned our Milwaukee Open Days on August 28 and 29, presented in partnership with the Milwaukee Art Museum Garden Club. (May 5)

SPACES, a national architecture and interior design magazine ran a recent interview with Ben Lenhardt about his book, Gardens of the North Shore of Chicago. (May 4)

Chronogram featured "Seven Must-Visit Public Gardens in the Hudson Valley," which included Blithewood Garden in Annandale-on-Hudson, Stonecrop in Cold Spring, and Innisfree in Millbrook, all in NY. (April 30)

The Anne Spencer House & Garden Museum, in Lynchburg, VA, was the subject of "Poetry and Song in the Landscape," recently published in The Field, the American Society of Landscape Architect's Professional Practice' Networks' blog. The article highlights the importance of documenting historic landscapes and encouraged participation in the 12th annual Historic American Landscapes Survey (HALS) Challenge competition. (April 22)

An alert for our virtual talk on May 6 by Douglas Tallamy, The Nature of Oaks, was included in Tom Karwin's "Home and Garden" column, "On gardening: biodiversity in the garden," in the Santa Cruz Sentinel, Monterey Herald, and other regional CA newspapers. (April 22)

The Journal News (Westchester, Putnam, and Rockland counties, NY) covered our Open Days program, including the changes we are making to ensure a safe and seamless return to in-person garden visiting this year. (April 16)

The Voice-Tribune featured Yew Dell Botanical Gardens' "Largest Big Bloom Ever," for which the garden planted more than 17,000 bulbs. The Crestwood, KY, garden is a preservation partner of the Garden Conservancy. (April 15)

Veranda magazine included an interview with Bunny Williams, the subject of a new PBS documentary, a feature on a Greenwich, CT, garden designed by Kathryn Herman—a garden that also was awarded an Outdoor Living Award by the magazine, and an introduction to Harlem Renaissance poet Anne Spencer and her garden. (March/April edition)

Society of Fellows member, art collector, and philanthropist Agnes Gund was interviewed by Art News. (March 24) Gund was also recently featured in a documentary film, Aggie, about her life and philanthropy with a focus on racial justice, which was covered by another article in Art News, among other publications. (October 9, 2020)

Bettie Pardee's blog, Private Newport, described Craig Bergman's garden and Ben Lenhardt's book, Gardens of the North Shore of Chicago. (March 18)

Landscape Architecture magazine featured a housing project in San Francisco with a landscape designed by Andrea Cochran. (February)

On February 25, Cultivating Place, on NSPR radio, interviewed Garden Conservancy board member, gardener, author, and Open Days co-founder and host Page Dickey.
Veranda magazine's article "Can the Garden Save Us?" included several Garden Conservancy friends, including the Anne Spencer House & Garden Museum, in Lynchburg, VA, New York City-based landscape designer Wambui Ippolito, and British psychiatrist and author Sue Stuart-Smith (February 18). A few weeks prior, Veranda also ran an in-depth article on Harlem Renaissance poet and gardener Anne Spencer.

Another article in Veranda featuring one of our friends and Open Days hosts – designer Bunny Williams – and a new documentary about her, "Bunny Williams: Not a House But a Home." The film, produced by the Institute of Classical Architecture & Art, will air on PBS in April.
Longwood Gardens unveiled plans for a transformation of the core conservatory garden areas, reported the Chester County Press, Jennersville, PA, on February 22, 2021.
Media Queries
"Outstanding gardens teach and inspire"
Read Martha Stewart's full letter from her March 2016 magazine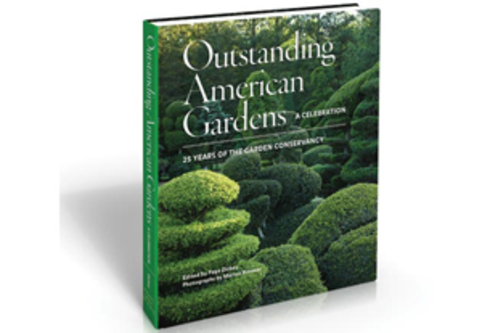 Our Silver Anniversary book is the perfect gift for gardeners!