A few highlights of media coverage of Garden Conservancy programs and those of our partners nationwide

The REACH at the John F. Kennedy Center for the Performing Arts was featured as the cover article of the September issue of Washington Gardener magazine. The article included quotes from Garden Conservancy president and CEO James Hall and highlights from our program "The New Kennedy Center Gardens," at the REACH on September 8.
The Register Citizen, Sharon, CT, featured our July 10 Litchfield County Open Day. (June 29)

Janet Mavec's blog featured an interview with landscape architect Joseph Marek, a member of the Garden Conservancy board of directors, rose hybridizer, and chair of our Open Days Committee, in "The Plant Nut: Joseph Marek." (June 29)

The Garden Club of the Back Bay included announcements of our July 10 Martha's Vineyard Open Day and our July 24 Bristol County Open Day and Digging Deeper program with Nan Sinton on the garden club's blog. (June 25; June 28)

The Keene Sentinel, Keene, NH, featured the return of our Open Days program to New Hampshire's Monadnock region in "Let's drop our trowels for a day and go take a look at... Other People's Gardens...." (June 24)

The Newtown Bee, Newtown, CT, reported on our June 5 Open Day at Jean Sander's garden in "A Rare Look at a Private Sandy Hook Garden." (June 15)

The Journal Sentinel, Milwaukee, WI, announced our Milwaukee Area Open Day on July 31 in "Garden tours in Milwaukee area gain extra luster from a year of at-home living." (June 3)

Garden writer, Garden Conservancy board member, and Open Days program co-founder Page Dickey reflected on her garden and current Covid-19 challenges in Berkshire Style. (May 19)
Ceramist and Garden Conservancy board member Christopher Spitzmiller was featured in the New York Times article "Cultivating the Growth of a Lifestyle Pundit." (May 13) Christopher, Clove Brook Farm, and his new book were also highlighted by Martha Stewart in Town & Country magazine. (April)

The Milwaukee Art Museum's recent blog post about the 100th anniversary of the its Garden Club mentioned our Milwaukee Open Days on August 28 and 29, presented in partnership with the Milwaukee Art Museum Garden Club. (May 5)

SPACES, a national architecture and interior design magazine ran a recent interview with Ben Lenhardt about his book, Gardens of the North Shore of Chicago. (May 4)

Chronogram featured "Seven Must-Visit Public Gardens in the Hudson Valley," which included Blithewood Garden in Annandale-on-Hudson, Stonecrop in Cold Spring, and Innisfree in Millbrook, all in NY. (April 30)

The Anne Spencer House & Garden Museum, in Lynchburg, VA, was the subject of "Poetry and Song in the Landscape," recently published in The Field, the American Society of Landscape Architect's Professional Practice' Networks' blog. The article highlights the importance of documenting historic landscapes and encouraged participation in the 12th annual Historic American Landscapes Survey (HALS) Challenge competition. (April 22)

An alert for our virtual talk on May 6 by Douglas Tallamy, The Nature of Oaks, was included in Tom Karwin's "Home and Garden" column, "On gardening: biodiversity in the garden," in the Santa Cruz Sentinel, Monterey Herald, and other regional CA newspapers. (April 22)

The Journal News (Westchester, Putnam, and Rockland counties, NY) covered our Open Days program, including the changes we are making to ensure a safe and seamless return to in-person garden visiting this year. (April 16)

The Voice-Tribune featured Yew Dell Botanical Gardens' "Largest Big Bloom Ever," for which the garden planted more than 17,000 bulbs. The Crestwood, KY, garden is a preservation partner of the Garden Conservancy. (April 15)

Veranda magazine included an interview with Bunny Williams, the subject of a new PBS documentary, a feature on a Greenwich, CT, garden designed by Kathryn Herman—a garden that also was awarded an Outdoor Living Award by the magazine, and an introduction to Harlem Renaissance poet Anne Spencer and her garden. (March/April edition)

Society of Fellows member, art collector, and philanthropist Agnes Gund was interviewed by Art News. (March 24) Gund was also recently featured in a documentary film, Aggie, about her life and philanthropy with a focus on racial justice, which was covered by another article in Art News, among other publications. (October 9, 2020)

Bettie Pardee's blog, Private Newport, described Craig Bergman's garden and Ben Lenhardt's book, Gardens of the North Shore of Chicago. (March 18)

Landscape Architecture magazine featured a housing project in San Francisco with a landscape designed by Andrea Cochran. (February)

On February 25, Cultivating Place, on NSPR radio, interviewed Garden Conservancy board member, gardener, author, and Open Days co-founder and host Page Dickey.
Veranda magazine's article "Can the Garden Save Us?" included several Garden Conservancy friends, including the Anne Spencer House & Garden Museum, in Lynchburg, VA, New York City-based landscape designer Wambui Ippolito, and British psychiatrist and author Sue Stuart-Smith (February 18). A few weeks prior, Veranda also ran an in-depth article on Harlem Renaissance poet and gardener Anne Spencer.

Another article in Veranda featuring one of our friends and Open Days hosts – designer Bunny Williams – and a new documentary about her, "Bunny Williams: Not a House But a Home." The film, produced by the Institute of Classical Architecture & Art, will air on PBS in April.
Longwood Gardens unveiled plans for a transformation of the core conservatory garden areas, reported the Chester County Press, Jennersville, PA, on February 22, 2021.
The life and artwork of Jack Lenor Larsen, innovative textile designer and creator of LongHouse Reserve in East Hampton, NY, was featured in a New York Times obituary on December 23, 2020. Antiques and the Arts weekly also honored him on December 29.
On December 8, 2020, the Chicago Tribune included Ben Lenhardt's new book, Gardens of the North Shore of Chicago, among the best gift books for the holidays, as did GardenDesign.com on December 13. Janet Mavec also interviewed Ben in a blog post, "A Garden Preservationist Explores Chicago's North Shore," on November 24.
The November issue of the UK-based Gardens Illustrated magazine featured an article about Page Dickey and Bosco Schell's new home and garden at Church House in Connecticut, as well as a review of Page's latest book, Uprooted: A Gardener Reflects on Beginning Again.
"The Little-Known Women Behind Some Well-Known Landscapes" was the focus of an article in the New York Times print edition on October 25, 2020. It highlights many unfamiliar names of women who have shaped significant American landscapes.
On October 21, 2020, the National Geographic published an article on the history of gardening on the island of Alcatraz, including a description of the rehabilitation project that the Garden Conservancy spearheaded, starting in 2003.
American Gardener magazine, September/October 2020, features moss gardener Dale Sievert, an Open Days host and one of the people also featured in our book #OpenDays25: A Quarter Century of America's Gardeners and Their Gardens, which was published in June 2020.
The Houston Chronicle profiled the John Fairey Garden and Randy Twaddle, the garden's new executive director, on October 2, 2020.
The October edition of Martha Stewart Living magazine showcases the garden of Rita Ramirez and Tom Bodett in Dummerston, VT, which was scheduled to participate in Open Days in 2020 and is now scheduled to be part of the 2021 season.

The October edition of House & Garden magazine has an extensive feature article on the work of potter and Open Days garden host Frances Palmer. Her new book, Life in the Studio, was released on October 6.

On September 28, Margaret Roach interviewed garden writer and Garden Conservancy board member Page Dickey about her new book, Uprooted, on Margaret's A Way to Garden podcast on Robin Hood Radio, a local NPR station in Western Connecticut.

On September 14, Bay Area News Foundation's localnewsmatters.org site reported on new developments at the Ruth Bancroft Garden in Walnut Creek, CA, including Brian Kemble's 40th anniversary as curator.

Sideofculture.com reported on the September 13 re-opening to the public of Greenwood Gardens in Short Hills, NJ.

On September 11, Garden Conservancy board member Elizabeth Everdell and her garden design work were featured in the Nob Hill Gazette, San Francisco, CA.

Jardin de Buis, the Open Days garden of Andrea Filippone and T. Fleisher in Pottersville, NJ, was featured in the September issue of Flower magazine.

Garden Conservancy board member and interior designer Katie Ridder's new book, Katie Ridder: More Rooms, (Vendome Press) was released on September 29.
Horticulturist and garden communicator Peggy Riccio and her co-host, Teri Speight, recently included the Garden Conservancy in their "Learning Gardening from African Roots" podcast (September 1, 2020).
Under the heading of "advance your garden knowledge," gardening columnist Tom Karwin highlighted our four-part webinar series, "Gardens for a Changing World," in the Monterey Herald, Monterey, CA (August 20, 2020).
The garden of Sharon and Joseph Pryse in Knoxville, TN, was recently featured in a Finch Photospread in VIP magazine. The full spread of aerial photos shot from a drone can be viewed online. A member of our Society of Fellows, Sharon was elected to the Garden Conservancy board of directors in June.

The July 10 edition of the New York Times included garden design tips from Bill Noble, former preservation director at the Garden Conservancy and author of the recently released book Spirit of Place. Bill was also interviewed in the Washington Post and on Margaret Roach's podcast, A Way to Garden.
Our Open Days program got a shout-out in the Journal News (May 24, 2020, Rockland/Westchester counties, NY), which mentions several stunning gardens we have shared during the past 25 years of Open Days.

The garden of Stan Fry, in Peterborough, NH, was featured in the Keene Sentinel (May 21, 2020). Stan's garden was slated to be part of our Monadnock Area, NH Open Day in July, which has been canceled this year.

Garden writer, Garden Conservancy board member, and Open Days program co-founder Page Dickey reflected on her garden and current Covid-19 challenges (Berkshire Style, May 19, 2020).
The garden of Roger De Muth, in Cazenovia, NY, was featured in Garden Design magazine (May 14, 2020). Roger, author of A Hobby Gone Berserk, has shared his garden through our Open Days in past years.
Horticulture Rising, a podcast on the future of horticulture hosted by Brandon George and Jordan Foreman, interviewed James Brayton Hall, President and CEO of the Garden Conservancy, on March 9, 2020.
Public Garden magazine, volume 34, issue 4, includes an article describing the Garden Conservancy Northwest Network (GCNN), as well as a profile of Justin Henderson, garden director at PowellsWood, a GCNN member organization.
Our Austin Open Day, November 2, 2019, was chronicled in Pam Penick's Digging blog in a series of posts per garden. The final installment is on the Two Coves Drive Residence; posts on other gardens in the Open Day can be accessed at the bottom of this post.
In related coverage, Central Texas Gardener on KLRU-TV in Austin, TX, interviewed designer Casey Boyter and the Garden Conservancy's Patrick MacRae in a preview of the Austin Open Day.
Steepletop, the house and garden of poet Edna St. Vincent Millay in Austerlitz, NY, received a grant from the New York Council for Nonprofits to develop an action plan for the future.
The autumn 2019 edition of Hortus magazine (UK) includes an article by landscape historian Judith Tankard about the history of Greenwood Gardens in Short Hills, NJ. It includes a description of the garden's transition from private estate to public garden, led by Peter and Sofia Blanchard and done in partnership with the Garden Conservancy.
Bellevue Botanical Garden in Seattle, WA, a member of the Garden Conservancy Northwest Network, was profiled in the September/October 2019 issue of American Gardener magazine.
Better Homes & Gardens magazine, September 2019, includes a page of gardening tips from Margaret Roach, garden writer and longtime Open Days host.
Congratulations to the Ruth Bancroft Garden, in Walnut Creek, CA, on winning Sunset magazine's 2019 Travel Award for Best Botanical Garden on August 26.
The American Public Gardens Association reported on August 20 that the Rhododendron Species Foundation plans to keep its Rhododendron Species Botanical Garden (a member of the Garden Conservancy Northwest Network) in Federal Way, WA, despite a recent change in the property's landowner.
Philadelphia magazine, July 30, reported the real estate listing of Hortulus Farm & Garden, Wrightstown, PA.
Into the Garden, a new book featuring watercolors and gouaches of 28 inspiring private gardens around the world by painter Christian Peltenburg-Brechneff, including the gardens of interior designer, longtime Garden Conservancy supporter, and Open Days garden host Bunny Williams and Open Days garden host Peter Wooster. The preface is also by Bunny Williams.
The Cummer Museum, in Jacksonville, FL, announced the completion of its garden restoration project and full reopening of the historic gardens, which sustained extensive damage from Hurricane Irma in 2017.
Open Days hosts Scott Warner and David Kirchner's cottage and garden on Cape Cod were featured by Gardenista.
On June 26, the Ruth Bancroft Garden held a ribbon-cutting ceremony for its new Visitor and Education Center.
The Milwaukee Sentinel featured Sanger House Gardens, part of our Milwaukee Open Day on July 13.
The Associated Press published an article about the Garden Conservancy and our Open Days program by Lee Reich, garden writer and himself an Open Days garden host and Digging Deeper presenter. The article has been picked up in nearly 100 media outlets across the country, including newspapers and social media.
The Greenwich Sentinel, Greenwich, CT, featured Sleepy Cat Farm, part of our Fairfield County Open Day on June 15.
Garden writer and blogger and Open Days garden host Margaret Roach was profiled by the Poughkeepsie Journal, Poughkeepsie, NY.
The Elizabeth Lawrence House & Garden, in Charlotte, NC, has been selected for the Historic American Landscape Survey, a cooperative documentation program with the National Park Service, the Library of Congress, and the American Society of Landscape Architects. The Elizabeth Lawrence Garden has been a preservation partner with the Garden Conservancy for many years; we hold a conservation easement on the property.
In late May, the Golden Gate National Parks Conservancy interviewed horticulturist and program manager Shelagh Fritz on finding sustainable sources of water for the Gardens of Alcatraz in San Francisco.
The Brattleboro Reformer reported that the Garden Club of America named longtime Open Days garden host Gordon Hayward an honorary member.
An April 28, 2019, New York Times article "The Healing Power of Gardens" included excerpts from a posthumous collection of writings by neurologist, author, and plant lover Dr. Oliver Sacks.
The February issue of the American Public Gardens Association's quarterly magazine, Public Garden, includes a feature article on the Rogerson Clematis Collection, a member of the Garden Conservancy Northwest Network.
The February issue of Connecticut Cottages & Gardens magazine featured the four seasons in Buddy Nixon's garden in Kent, which opened for a Garden Conservancy Open Day on June 16, 2019.
The January issue of Gardens Illustrated magazine (UK) features a modernist garden in San Francisco designed by Andrea Cochran and the home garden of Bernard Trainor.
The Winter 2019 edition of Berkshire Botanical Garden's quarterly magazine featured Nat and Lucy Day's donation of their topiary collection.

LongHouse Reserve's creator, Jack Lenor Larsen, was one of five "influencers and artists" profiled in Craft in America's PBS series, "Visionaries," on December 21.

The American Society of Landscape Architect's newsletter interviewed photographer Marion Brenner, a member of the Garden Conservancy's West Coast Council and the photographer of many books, including Outstanding American Gardens, published in 2015 in celebration of our silver anniversary.
Google Street Views explores seven Northwest gardens! Read about Ben Streissguth's adventures trekking through seven gardens in the Garden Conservancy Northwest Network in the fall 2018 issue of Public Garden magazine from the American Public Gardens Association (APGA).
Great news for Stoneleigh Garden in the Philadelphia area! The Lower Merion School District will not build athletic fields on the Stoneleigh property, as reported by Philadelphia CBS Local on November 20, 2018.
The fall issue of Garden Citings, the newsletter of the Cherokee Garden Library, published an article in support of preserving Clermont Lee's garden at the Girl Scouts headquarters in Savannah, GA. A proposed renovation of the Juliette Gordon Low House in Savannah, GA, threatens to destroy the garden. Earlier, the Garden Conservancy issued a letter in support of exploring alternatives that can preserve the garden.
Robin Hood Radio (NPR), "Rural Intelligence Report with Mark Williams," a program rounding up report on upcoming Hudson Valley programs of interest, includes a plug for Linda Allard's Digging Deeper on October 13.
The Week: The Best of US and International Media magazine named the Garden Conservancy "Charity of the Week" on August 10, 2018.
On July 28, 2018, Rural Intelligence, South Lee, MA, reported on the potential closing of Steepletop, the garden of poet Edna St. Vincent Millay in Austerlitz, NY.
Mother Nature Network featured the Pearl Fryar Topiary Garden in Bishopville, SC, on July 20, 2018, including an interview with Pearl Fryar and a comment from James Hall.
Garden Time TV, Portland, OR, interviewed a garden host from our July 14 Portland Open Day and a representative of our co-sponsor, the Hardy Plant Society.
On July 5, 2018, the Register-Guard, Eugene, OR, reported on our upcoming Garden Conservancy Open Day in Eugene.
Our first Garden Conservancy Open Day in Saratoga, NY, was highlighted in Saratoga Today on June 22, 2018.
The Hudson Valley's Chronogram magazine featured us in their June issue.
Marin Independent Journal, Marin County, CA, featured our Open Day in Tiburon, presented in partnership with Marin Art & Garden Center.
The legacy of Ruth Bancroft, "Gardener of Earthly Delights," is distilled by Johanna Silver in the Journal of Alta California, San Francisco.
Garden at Risk: the background of Steepletop's uncertain future is explained in a feature article in the New York Times on May 14, 2018.
The May 6 Los Angeles Open Day was featured in the Los Angeles Times on April 27, 2018.
Itchy Acres, a participating garden in our Open Day on April 28, 2018, in Houston, TX, was featured in the Houston Chronicle the day before.
The Millay Society, stewards of Steepletop, the home of Edna St. Vincent Millay, has launched a "Save Steepletop" fundraising campaign to avert having to close at the end of the year, as reported in the New York Times, Poughkeepsie Journal, and other publications.
The Spring 2018 edition of Quercus, the newsletter of the Landscape and Arboretum Program at Bard College in Annandale-on-Hudson, NY, is a special issue about Blithewood Garden.
On April 20, 2018, the Poughkeepsie Journal featured a complete listing of Hudson Valley Open Days in Dutchess, Ulster, Putnam, and Columbia Counties, NY, for the upcoming season.
The April 14, 2018, edition of the Florida Times-Union in Jacksonville, FL, reported that Garden Conservancy president James Brayton Hall announced that the Garden Conservancy will donate $20,000 to the Cummer Museum of Art & Gardens to help the Cummer restore its gardens after the damage from Hurricane Irma last September.
Nord Eriksson's drought-tolerant garden was featured in a Los Angeles Times article announcing our April 22 Open Day in Pasadena.
Keeyla Meadows' garden, part of our San Francisco East Bay Open Day, was featured in the San Francisco Chronicle on April 11, 2018.
The Spring 2018 issue of Garden Design magazine includes features on several of our Open Days and Digging Deeper hosts, including a Designer Portfolio on Gary Ratway of Digging Dog Nursery,kitchen gardening profiles of Ellen Ecker Ogden and Matthew Benson, and a news brief about Margaret Roach's blog, A Way to Garden. View a few selected clips here. For the full articles, please subscribe to Garden Design magazine.
The Gardener film was reviewed in the New York Times and Hollywood Reporter.
On March 29, 2018, the Journal News in White Plains, NY, ran an overview of upcoming Open Days in the region.
The San Francisco Chronicle, March 4, 2018, carried an obituary in honor of our board member Antonia Hunter Breck.
The East Bay Times, Walnut Creek, CA, reported the celebration of Ruth Bancroft's life on Saturday, February 17.
The January/February issue of American Gardener magazine includes an In Memoriam for Ruth Bancroft, mentioning how her garden inspired Frank Cabot to found the Garden Conservancy.
Our preservation partner Hollister House Garden was featured in a splashy 16-page article in the Winter 2018 edition of Garden Design magazine. View a few pages here or subscribe to Garden Design and get the full Winter issue.
An article in the News Tribune in Tacoma, WA, carried the news of the Chase Garden's listing for sale.
A tribute to Ruth Bancroft, creator of the garden that inspired Frank Cabot to create the Garden Conservancy and that became our very first preservation project, was published in the November 28, 2017, edition of the San Francisco Chronicle, as well as in many other local papers. Ruth Bancroft died on November 26 at the age of 109.
The November 17, 2017, edition of the Financial Times Weekend Edition includes a feature on the "Growing Obsession" of George Washington, Thomas Jefferson, Prince Albert, and other "founding fathers" and luminaries on both sides of the Atlantic.
Our long-time Open Days hosts at Landcraft Environments in Mattituck, NY, were featured in the Fall 2017 issue of Gardens Illustrated.
On September 30, our San Antonio Open Days representative Shirley Fox provided a preview of the October 14 Open Day in a Central Texas Gardener interview.
The Fall 2017 issue of the Garden Club of America's Bulletin includes a feature article on Innisfree Garden, a Millbrook, NY, landscape designed by Lester Collins and a participant in our Open Days program.
Our October 14, 2017, Open Day in San Antonio, TX, was previewed on rockoakdeer.blogspot, including a portfolio of garden photos.
On September 1, the Carlisle Mosquito covered our Open Day and Family Time program at the Clock Barn in Carlisle, MA, on September 9.
Congratulations to our board member Robert Balentine and his wife, Betty, who were named Preservation Heroes by the Library of American Landscape History and profiled in the summer 2017 issue of View magazine. View also profiled the Southern Highlands Reserve in North Carolina, created by the Balentines.
HudsonValley360.com published an article, "Gardens Through History," highlighting Steepletop, Edna St. Vincent Millay's garden, and its recent Open Day. People "become aware that we exist because we're on the Garden Conservancy tour," reports Martha Raftery, Steepletop's director of visitor services. Steepletop was also profiled in Gardenista.com on August 18.
Afterglow Farm, part of our Milwaukee Area Open Day on July 16, was featured in the July 9 edition of the Journal Sentinel, Milwaukee, WI.
On June 15, a Litchfield County Times article by Tovah Martin featured two Open Days hosts in Hillsdale, NY, who are participating in our August 19 Open Day. The same day, Chicago Tribune's Evanston Review also wrote about the June 25 Open Day in Chicago's North Shore.
The May/June 2017 issue of American Gardener magazine includes a feature on Hollister House Garden, our preservation partner garden in Washington, CT.
The Eaton Dispatch News, Pierce County, WA, reported that Chase Garden is at a "crossroads."
The Boston Globe highlighted the West Roxbury garden of Christie Dustman, part of our Greater Boston Area Open Day on June 11. Separately, the Globe's magazine ran a feature profiling Maureen Ruettgers and her garden in Carlisle, MA, which will be open for an Open Day on September 9.

Congratulations to Pearl Fryar on receiving a 2017 National Garden Clubs Award of Excellence.
The Palm Beach Daily News reported on James Brayton Hall's departure from the Norton Museum to head north and join the Garden Conservancy as President and CEO on June 1.
DNAinfo.com posted the news about Piet Oudolf being selected to design the planting plan at the Jensen Formal Garden in Chicago's Humboldt Park.
GreatBigStory.com has posted an inspiring short video about Pearl Fryar and his topiary garden.
"It is, in a word, ethereal." Read the latest profile of the Chase Garden, from the May/June 2017 issue of Northwest Travel & Life magazine.
Garden Conservancy member, fan, and volunteer Laura Wilson talks about some of her favorite gardens and other highlights of the 2017 Open Days season in a "Cultivating Place" interview on April 6, 2017.
We are saddened to hear of the passing of Dorrance Hill Hamilton, a loyal supporter of the Garden Conservancy since our founding, and a leading patron of healthcare, education, and the arts—including her lifelong passion, horticulture. Read more in her obituary in the Philadelphia Inquirer.
Congratulations to Renny Reynolds and Jack Staub on having their garden, Hortulus, featured among the "Great Gardens Across America" in the spring 2017 edition of Garden Design magazine!
Our March 25 Open Day in Houston was featured in the Houston Chronicle on March 17 and 22.
The Ruth Bancroft Garden is third on a list of twelve "top spots for floratourism" in the country, per Country Living.
The January/February 2017 edition of First Coast magazine, Jacksonsville, FL, profiled "weekend warriors" Pam and Jake Ingram in Avondale, who were garden hosts for our Jacksonville Open Day on March 25.
The January 2017 edition of the UK Royal Horticultural Society's monthly magazine, The Garden, includes a nice book review of The Bold Dry Garden. Earlier in January, the book was also reviewed in Pacific Horticulture magazine and the East Bay Times reported that "Bancroft Garden preps for major upgrade."

An interview with Peckerwood Garden's horticulturist Adam Black on KLRU's Central Texas Gardener on Janurary 14, 2017, explains how new plants are introduced into the trade.
Media Queries
"Outstanding gardens teach and inspire"
Read Martha Stewart's full letter from her March 2016 magazine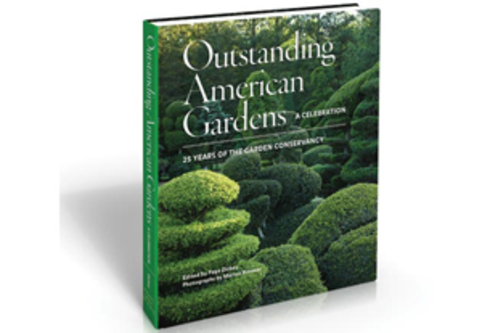 Our Silver Anniversary book is the perfect gift for gardeners!