A 501(c)(3) nonprofit organization incorporated in New York State, the Garden Conservancy was founded in v1989 by renowned plantsman Frank Cabot. Today, our board of directors is composed of twenty-seven men and women from across the country, led by Courtnay S. Daniels, Chairman, and Robert M. Balentine, Vice-Chairman.
THE GARDEN CONSERVANCY BOARD OF DIRECTORS
Officers
Courtnay S. Daniels, Chairman
Greenwood, Virginia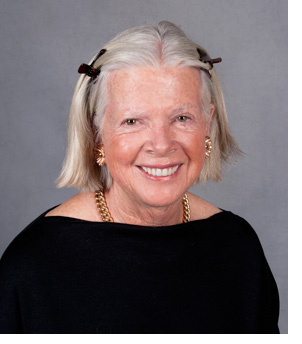 Courtnay Daniels joined the Garden Conservancy board of directors in 2006, became Vice-Chairman in 2011, and was elected Chairman in September 2018. She has opened her garden to the public through the Garden Conservancy Open Days and for our Society of Fellows garden-study tours. Courtnay is a long-time member of the Garden Club of America and a former partner in a small greenhouse business. She has served on the boards of the Thomas Jefferson Foundation at Monticello and of the Lewis Ginter Botanical Garden in Richmond, and has supported a variety of projects at the University of Virginia.
Over the last twenty years, Courtnay has created a series of garden rooms, diverse shrub borders, greenhouses, and arboretum on more than twenty-nine acres at her home, Whilton Farm, an expansive pastoral landscape in the Blue Ridge Mountains. In 2008, the Wall Street Journal described her garden as having "one of the largest collections of rare plants in the country."
Robert M. Balentine, Vice-Chairman
Atlanta, Georgia
Robert Balentine, chairman and CEO of Balentine, an Atlanta-based wealth management firm, was elected to the Garden Conservancy board of directors in June 2015 and became Vice-Chairman in September 2018. An inveterate, dirt-under-the-fingernails gardener with a rosarian as his father and Garden Club of America horticulture judge as his mother, Robert's love of the natural world developed at an early age, hiking and camping as an Eagle Scout.
Robert founded the Southern Highlands Reserve, a nationally recognized native plant arboretum and research center in the Blue Ridge Mountains of western North Carolina, in 2002. He has also held many other leadership positions in his community, including founding president of the Southeastern Horticultural Society and chairman of the board of the Atlanta Symphony Orchestra. He is past president of the Rotary Club of Atlanta and a graduate of Washington & Lee University, where he served as a trustee for nearly a decade. Among other civic and business honors, he received the 2013 Business Person of the Year Lifetime Achievement award from the Metro Atlanta Chamber. His wife, Betty, shares his passion for gardening and is a past president of her Garden Club of America club in Atlanta.
James Brayton Hall, President and Chief Executive Officer
Beacon, New York
James Hall joined the Garden Conservancy as president and CEO in June 2017. For the previous four years, he was deputy director of the Norton Museum of Art in West Palm Beach, Florida, where he worked on the planning and design of the Norman Foster-designed museum expansion and sculpture gardens. From 2010 to 2013, he was executive director of the Providence Preservation Society in Rhode Island, overseeing all programming, fundraising, and relations with the board, donors, and community. From 2006 to 2010, James served as assistant director of the Museum of Art, Rhode Island School of Design, after holding various other management and curatorial positions at the school since 1985.
James has a bachelor's degree in architecture from the University of Virginia and a master's in landscape architecture from Rhode Island School of Design. In addition, he was awarded a Royal Oak Scholarship to attend the Attingham Trust Summer School in Architectural and Landscape History in London, and, separately, participated in the Victorian Society's summer program in architectural history, also in London. In 2016, he was accepted to and completed Attingham's Royal Collections Course. He has spoken widely on architectural and landscape design and has been a member of the graduate program faculty at the Rhode Island School of Design.
Paul Redman, Vice President
Kennett Square, Pennsylvania
Paul B. Redman is an award-winning leader of public gardens, known for his dedication to the beauty and sustainability of gardens and for the training of future generations of horticulture professionals. As president and chief executive officer of Longwood Gardens since 2006, Paul has implemented institutional and strategic reforms that have positioned Longwood as a premier horticultural, cultural, and educational institution. Overall attendance has doubled to almost 1.6 million visitors a year. Most recently, Paul led the $90-million revitalization of the main fountain garden, which reopened in May 2017.
Paul joined the Garden Conservancy board of directors in 2012 and was elected vice president of the board in 2014. He has also served as board president and treasurer of the American Public Gardens Association and as co-chair for Seed Your Future, a national initiative to promote awareness and careers in horticulture. Recent honors include the 2018 National Garden Clubs Award of Excellence, 2017 Distinguished Alumnus from the Division of Agricultural Sciences and Natural Resources at Oklahoma State University, 2016 American Public Gardens Association Award of Merit, the International Garden Tourism Network's 2015 Person of the Year, and 2015 American Horticultural Society's Professional Award.
Howard G. Seitz, Secretary/Treasurer
New York, New York


Gerry Seitz is of counsel to the New York law firm Satterlee Stephens, where he is active in the practice of business and commercial law and trusts and estates. For more than twenty years, he was a partner at O'Connor, Murphy, Ryan & Seitz. He has been involved with several start-up companies over the past decade and is a former board member of various privately held companies and charities and of the City Council of Rye, New York.
Thirty years ago, Gerry and his wife, Sue, began a garden at an 1890 carriage house set on an outcropping of rock overlooking the Mill Pond and its old red mill in Rye, New York. The couple has been involved with the Garden Conservancy since our founding. Gerry has served as our organization's legal counsel from the beginning and was elected to the Conservancy's board of directors in 1996 and named Secretary/Treasurer at the same time.
To view short bios, please click on each name below.
Chairman Emeritus
---
Benjamin F. Lenhardt, Jr.
Charleston, South Carolina


Directors
---
To view a short bio of each board member, please click on the name below.
Mary-Randolph Ballinger
St. Louis, Missouri
Shelley Belling
Newport Beach, California
Allison K. Bourke
Greenwich, Connecticut
Susan Payson Burke
New York, New York
F. Colin Cabot
Loudon, New Hampshire
Barbara Whitney Carr
Hobe Sound, Florida
J. Barclay Collins II
Sharon, Connecticut
Page Dickey
Falls Village, Connecticut
Elizabeth Everdell
San Francisco, California

Lionel Goldfrank III
Sharon, Connecticut

Susan Zises Green
New York, New York

Henry P. Johnson
Short Hills, New Jersey
On leave
Suzanne Kayne
Santa Monica, California
Susan Lowry
New York, New York
Joseph Marek
Santa Monica, California
Carolyn Mehran
San Francisco, California
Suzanne Rheinstein
Los Angeles, California
Katie Ridder
New York, New York
Ann Copeland Rose
Wilmington, Delaware
Jorge A. Sánchez
Palm Beach, Florida
Patricia A. Steffan
New York, New York
Dana Scott Westring
Marshall, Virginia
---
Directors Emeriti
Linda Allard
Washington, Connecticut
Douglas H. Banker
Garrison, New York
Josephine B. Bush
Hamden, Connecticut
Edward N. Dane
Center Harbor, New Hampshire
Dr. Gilbert S. Daniels
Indianapolis, Indiana
Dorothy H. Gardner
Chicago, Illinois
Board resolution in honor of Dorothy Gardner, September 12, 2018


Thomas B. Hunter III
Lake Forest, Illinois

Posy Krehbiel
Lake Forest, Illinois
Dr. Richard W. Lighty
West Chester, Pennsylvania
Board resolution in honor of Dick Lighty, March 27, 2014
Joseph F. McCann
New York, New York
Evelyn M. McGee
Sullivan's Island, South Carolina
Board resolution in honor of Patti McGee, June 11, 2015
Chapin Nolen
Santa Barbara, California
Board resolution in honor of Chapin Nolen, September 17, 2015
Barbara Paul Robinson
New York, New York
Deborah Royce
Riverside, Connecticut
Board resolution in honor of Deborah Royce, September 12, 2018
Susan Stone
Glencoe, Illinois
Board resolution in honor of Susan Stone, September 17, 2015
Nancy Thomas
Houston, Texas
Rodman Ward, Jr.
Wilmington, Delaware
Board resolution in honor of Rod Ward, September 12, 2018
Louise Wrinkle
Birmingham, Alabama