Mt. Kisco, NY

Open Days, Meadow, Water feature, Digging Deeper, Open Days Special Program
At Rocky Hills, William and Henriette Suhr began planting among the stone walls some fifty years ago. You will find mature specimens of black walnut and ash, complemented by recent additions of weeping beech, dawn redwood, Stewartia, dogwood, and an impressive collection of magnolias and conifers. Tree peonies and an extensive planting of rhododendrons and azaleas compete for attention with the carpet of bulbs throughout the thirteen acres. Most impressive in May and June are the forget-me-nots, which are allowed full freedom throughout the garden. Starting on the hillside meadow, clouds of perfect blue flowers appear among an ever-expanding rock garden, through the hills and terraces, walls and paths, through fern woodlands, finding good company with self-sown Primula along the natural brook that serves as the heart of the garden.
Directions: From Saw Mill River Parkway, go north to Exit 33/Reader's Digest Road. At traffic light, turn left, then make a sharp right onto Old Roaring Brook Road. Rocky Hills, #95, is 1 mile on right. Please park Lawrence Farms Crossways as directed.

From Merritt Parkway/Route 15, go to I-287 West and exit at Saw Mill River Parkway North. Proceed as directed above.

From Taconic Parkway South take Route 100/Route 133 exit toward Briarcliff Manor/Millwood. Turn right onto Route 100/Route 133/Saw Mill River Road/Somerstown Turnpike. Turn right onto Station Road for a half mile and then turn right onto Millwood Road. Take a slight right onto Quaker Road for about 0.5 mile and then turn sharp left onto Seven Bridges Road. Turn right onto Lawrence Farms Crossway and left onto Old Roaring Brook Road to #95. Proceed as directed above.
Open Days 2018: May 19
Hours: 10 a.m. to 4 p.m.
Admission to this garden is $7 for members and nonmembers without tickets purchased in advance.
Buy discounted admission tickets in advance! They can be used at most Open Days to make garden visiting easier.
Nonmembers get 6 visits for the price of 5 with advanced ticket book purchase.
Members get 50% off ONLY by purchasing ticket books in advance.
Digging Deeper program:
2 p.m. - Tovah Martin's Bootcamp for the Senses; free with garden admission.
Your garden could be so meaningful, if you plug in. To coincide with the publication of Tovah's new book, The Garden in Every Sense and Season, this event explores the garden on all levels by attuning your nose to the scents and training your ears to listen. Keying into the bounty of stimuli at Rocky Hills, we'll learn to garden with eyes wide open, ears to the ground, and hands outstretched. As we engage, we'll talk about making your own garden more fulfilling on all levels. And a special bonus—expand your nose and its vistas with a Smellathon! Together, we'll come to our senses.
Tovah Martin is an award-winning author, garden writer, freelancer, and fanatical gardener. Her books include her most recent title: The Garden in Every Sense and Season (Timber Press, April 2018) as well as The Indestructible Houseplant, The New Terrarium, and Tasha Tudor's Garden. Her writing appears in the publications Gardens Illustrated, Garden Design, Country Gardens, Cottage Journal, Milieu, Traditional Home, and many other magazines. An organic gardener, she digs into the land as well as growing indoors at Furthermore, her Litchfield County home.
This garden allows photography
---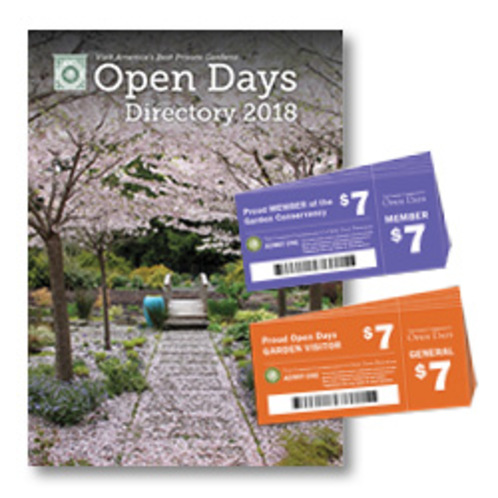 Order Books & Tickets!