Mt. Kisco, NY

Open Days
This 1925 home in Mount Kisco is one of five designed and built by Lillian Greneker, whose works are now curated in Harvard's Arthur and Elizabeth Schlesinger Library on the History of Women in America. Her husband, C. P. Greneker, was then director of publicity for the Shubert Theater. This two-acre property has meandering woodchip trails, two streams, seven small bridges, and two "secret" gardens. It includes a natural fern garden and other beautiful perennial gardens, created by the owners, that contain Astilbe, roses, statuary, a kitchen stone garden, and other whimsical features. The home, on this undulating property, is enchanting.
Directions: From the Taconic Parkway North, take Exit 8 left onto Campfire Road, then right onto Route 100 N. After 3.5 miles, turn right onto Crow Hill Road. The property, #375, is 0.4 miles ahead on the right. Street parking is available across the street on Spring Meadows Road.
Open Days 2018: July 21
Hours: 10 a.m. to 4 p.m.
Admission to this garden is $7 for members and nonmembers without tickets purchased in advance.
Buy discounted admission tickets in advance! They can be used at most Open Days to make garden visiting easier.
Nonmembers get 6 visits for the price of 5 with advanced ticket book purchase.
Members get 50% off ONLY by purchasing ticket books in advance.
This is a new garden
This garden allows photography
---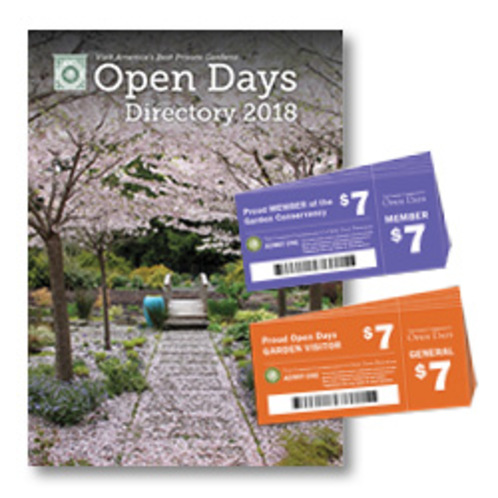 Order Books & Tickets!