Stanfordville, NY

Open Days, Organic, Meadow, Water feature, Plant Collection
This country garden invites you through an artful stone-pillared entrance along a long curving driveway framed by lilies, red maples, and river birches. The property includes acres of dahlias and peonies, part of an ever-evolving flower-growing operation. The 150-year old farmhouse is surrounded by impressive trees, including a 350-year old sycamore, one of the largest in Dutchess County, dressed with an apron of Spirea, as well as towering Norway spruces and unusual dawn redwoods. Each of the meadows and multiple garden areas carries its own aesthetic. White picket fences line some of the flower gardens, filled with hibiscus, iris, anemone, aster, and hydrangea. Wander among mature ninebark bushes framed by raspberry brambles with an old trumpet vine and even older tractor-trailer converted to an over-sized flower box. Meander along pathways among crabapple, pear, and katsura trees. There is a handmade stone grill along with various pottery pieces from around the world. The natural pond, filled with bass and koi and bordered by Little Wappingers Creek, is surrounded by willow bushes, grapevines, and Scotch pines as well as welcoming Adirondack chairs. The recently renovated 100-year old barn has been re-created as an event and performance venue, along with a new landscape-grasses garden. This eclectic property doesn't have a single description but rather is filled with a wide range of delights and discoveries.
Directions: From the Taconic State Parkway traveling north, take Route 44 East/Millbrook Exit (sign also says Poughkeepsie, though you will have passed prior exits for that) and turn right at end of ramp. Go 1.0 mile, and turn left onto Route 82 North, just after mini-mall on left and only gas station on the left. Go 7 miles to fork in the road (Stissing Bank in center) continue to bear left on Route 82 North and slow down. On left, you will pass a house with a brown fence close to the road and our driveway is a bit hidden but marked by two small stone pillars just after the fenced house. Note: If you pass Carousel Antiques Center on right, you have gone too far.
Open Days 2018: September 22
Hours: 10 a.m. to 4 p.m.
Admission to this garden is $7 for members and nonmembers without tickets purchased in advance.
Buy discounted admission tickets in advance! They can be used at most Open Days to make garden visiting easier.
Nonmembers get 6 visits for the price of 5 with advanced ticket book purchase.
Members get 50% off ONLY by purchasing ticket books in advance.
This garden allows photography
This garden is handicap-accessible
---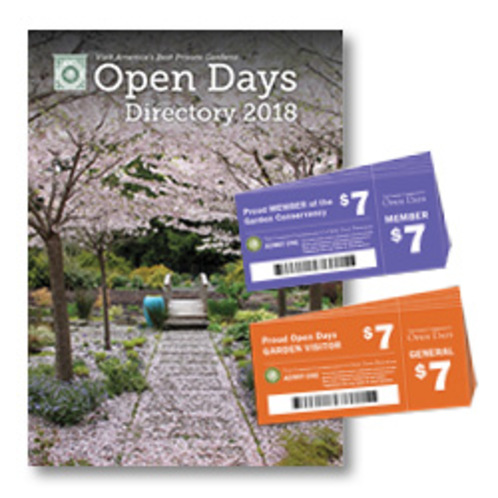 Order Books & Tickets!