Longue Vue House & Gardens
As a National Historic Landmark, Longue Vue House and Gardens in New Orleans, LA, has beautifully preserved and kept their gardens for public enjoyment for many years. Not long after Hurricane Katrina, the Garden Conservancy sent a team of volunteers and funded a landscape renewal plan. We also placed a Marco Polo Stufano Fellow in residence in 2008 to implement initial phases of restoration and reclaim the original design brilliance of landscape architect Ellen Biddle Shipman. Today, visitors to Longue Vue enjoy tours of the home and gardens, community educational programs, and look to Longue Vue and its gardens as a venue for small business and social gatherings.
TIMELINE

2017
Longue Vue is announced as one of the Top Ten North American Gardens Worth Traveling For by the Canadian Garden Council and the American Public Gardens Association. The honor is given as part of the Garden Tourism Conference and recognizes those that contribute to and excel in creating partnerships between gardens and tourism.
2016
Longue Vue begins updating the plant collections digital mapping system to include the Louisiana Iris, Camellia, Japanese Azalea, and Native Plant Collections.
2015
Rizzoli publishes Longue Vue House and Gardens book in November.
2014
A gift shop is relocated back to its original space and the Whim House is restored to its original purpose as a guest house.
2012
The gardens move beyond restoration into refinement stage.
2009
The Vermont Chapter of the American Society of Landscape Architects presents an Excellence award to Heritage Landscapes for the Renewal Plan for Longue Vue House & Gardens.
2008
Paul Cady, a Garden Conservancy Marco Polo Stufano Fellow, researches, plans, and begins restoration of five garden areas, demonstrating that the garden is capable of attaining its former luster.
2007
We raise significant funds to support the initial landscape assessment, planning phase, and the final Historic Landscape Renewal (HLR) Manual in partnership with Heritage Landscapes, LLC. The HLR is a long-term, holistic, phased approach to restore Ellen Biddle Shipman's original landscape design intent.
2006
The Garden Conservancy sends a volunteer team of horticultural experts to assist with the garden clean-up and restoration. Work includes turning over a cover crop in the parterres, removing dead shrubs, preparing for replanting, work in the east lawn, Discovery Garden, entry court, and a shrub border along the oak allee. Longue Vue becomes a preservation garden partner.
2005
Designated a National Historic Landmark in April. Four months later, Hurricane Katrina causes extensive damage.
1990
Longue Vue embarks on 12 years of significant garden and infrastructure restoration to ensure its health and historic authenticity.
1935
Edgar and Edith Stern begin the construction of Longue Vue, one of the last great houses of the American Architectural Renaissance. Encompassing 8 acres, the house and gardens reflect the collaborative artistic and design vision of the Sterns, architects William and Geoffrey Platt, and landscape designer Ellen Biddle Shipman, who was called "the dean of American women in landscape architecture" by House & Garden magazine in 1934. The project is completed seven years later.
For more information, visit longuevue.com.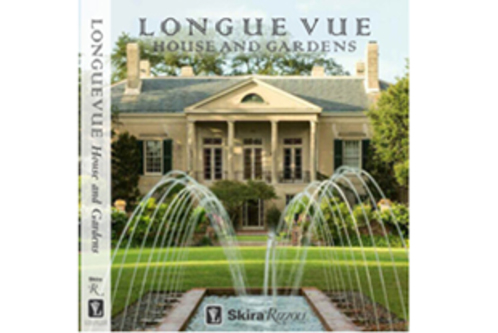 Longue Vue House and Gardens: The Architecture, Interiors and Gardens of New Orleans' Most Celebrated Estate
Then & Now
The tenth anniversay of Hurricane Katrina marked a milestone in an impressive recovery effort involving over 600 volunteers. The Garden Conservancy joined forces to help lead the efforts. Read more about this milestone and other similar ones.