In celebrating our silver anniversary, it's illuminating to compare historicial photos with similar views in the gardens today. Gardens are living works of art; they evolve through the seasons and over years. The spirit of the garden creator can be continued, restored, and revitalized in many ways.
Chase Garden
---
In 1943, Emmott and Ione Chase purchased a dramatic site on a bluff in Orting, WA, overlooking a majestic view of Mount Rainier. They commissioned the design of a modernist house, and did much of the finishing work themselves after the house was framed and plumbed. They installed a cedar shake roof in 1958, shown under construction in the photo below. The roof was renovated in the late 1970s.
By 2015, the old-growth cedar shakes had again split, cracked, and cupped, needing complete removal and replacement to protect the house from leaks. Below are views of the re-roofing in progress in October, and the finished roof.
Longue Vue House & Gardens
---
Ten years after Hurricane Katrina devastated New Orleans, Longue Vue House & Gardens is back and better than ever, reports Amy Graham, director of horticulture. 200 trees and 60 percent of the important plant collections were lost, along with substantial structural damage. Only one gardener (Amy) was able to return to work after the hurricane.


The Garden Conservancy joined the effort to marshall resources from across the country as well as locally and to help remove tons of debris and dead plants and then replant and restore the gardens. In the process, the gardens recaptured the brilliance of the original Ellen Biddle Shipman design and are once again a premier cultural and educational resource for the community.
Greenwood Garden
---
In the spring of 2013, Greenwood Garden in Short Hills, NJ, opened to the public on a regular schedule after extensive renovations to the infrastructure of the garden. Restoration efforts included repairs to the garden's unique collection of Rockwood tiles in fountains and garden structures across the landscape.
Bench grotto with Rockwood tiles before restoration. Photo, Greenwood Gardens archive
Photo, Greenwood Gardens archive
Ruth Bancroft Garden
---
Photo by Brad Rovanpera, late 1980s
Ruth Bancroft, creator of the very first garden that the Garden Conservancy helped to preserve, was a woman ahead of her times, a pioneer in water-conscious gardening. This black and white photograph, shows her tending her extensive collection of succulents from around the world in her garden in Walnut Creek, California.

Photo by Marion Brenner, 2015
Today, the Ruth Bancroft Garden's propagation greenhouse is chock-full of aloes, echeverias, and other drought-resistant plants suited to today's dry weather conditions in the region. The plants propagated there are used for planting in the garden itself and provide unusual material for popular plant sales as well.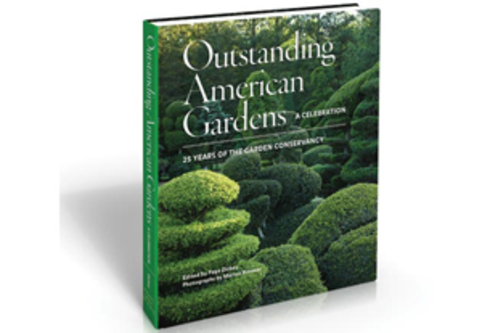 Our Silver Anniversary book is the perfect gift for gardeners!
RICHARD MOE, PRESIDENT, NATIONAL TRUST FOR HISTORIC PRESERVATION;
"Important gardens are an essential part of our irreplaceable heritage — as much a part of the historic preservation landscape as buildings, birth sites, and battlefields."
1999