The health and safety of all our members, garden hosts, guests, and other participants in our programs is a top priority for the Garden Conservancy.
Following guidance from the CDC, we are canceling all Open Days and all other educational programs through June 30. As the situation changes, we will work with hosts to determine the best path forward, understanding that the implications may be different in different parts of the country.
In 2019, we introduced the Garden Masters Series—connoisseur-level educational and social opportunities at exclusive gardens not otherwise available through Open Days. We were thrilled with the reception; most of the programs sold out.
Garden Master Series programs require additional fees and advance registration through the links on each event page or by calling our toll-free order line, 1.888.842.2442, 9 a.m. to 5 p.m. ET.
2020 Garden Masters Series programs:

CANCELED: Thursday, March 19, 2020 | 10 a.m. to 2 p.m.: The Making of Three Gardens—Paradise in Palm Beach; Palm Beach, FL
CANCELED: Tuesday, April 14, 2020 | 10:30 a.m. to 12 p.m.: Salesforce Transit Center Park—A Modern Urban Rooftop Landscape; San Francisco, CA
CANCELED: Tuesday, May 19, 2020 | 10:30 a.m.: A Garden to Heal the Land—Silvina Blasen's Private Oasis; Fairfax, CA

CANCELED: Friday, June 5, 2020 | 1 p.m. to 4:30 p.m.: Brooklyn's Cultural Oases—Prospect Park and Green-Wood Cemetery; Brooklyn, NY
CANCELED: Sunday, June 28, 2020 | 3 p.m. to 5 p.m.: Garden Idyll—An Afternoon at Camp Rosemary; Lake Forest, IL
CANCELED Sunday, July 26, 2020 | 3 p.m. to 5 p.m.: Garden Idyll—An Afternoon at Camp Rosemary; Lake Forest, IL
CANCELED: Saturday, August 1, 2020 | 10:30 a.m., 12:30 p.m., and 2:30 p.m.: Historic Art and Gardens in Wisconsin—the Chipstone Foundation; Fox Point, WI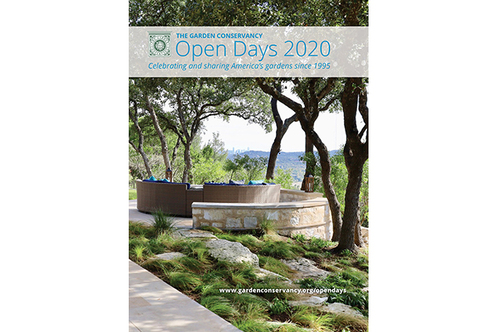 Open Days Schedule