Little Compton, RI

Plant Collection, Plant Sale, Open Days
Sakonnet Garden is an exotic cottage garden imbedded within a native coastal fields landscape, a long-term project of John Gwynne and Mikel Folcarelli. It is an ongoing experiment in design, scale and plantings. The acre-sized main garden is subdivided into a series of fourteen spaces separated by high windbreak hedges and stone walls. Each space has its own mood and horticultural objective - the "yellow garden", planted with chartreuse or variegated foliage, seems to catch sunlight on a gray coastal day; elsewhere, a newly replanted "silver zone" is pale foliaged and punctuated with spires of weeping spruce; another evokes the subtropics, its centerpiece being a red "Mughal pavilion" imported from India. A "gothic woodpile" is one of multiple tall wind-barriers installed to create microclimates for experimental growing of rarely-seen Zone 7 plants. A one acre 'pollinator plus" summer garden is adjacent, designed as a biodiversity maze for production of butterfly caterpillars and nectar for pollinating insects. [Watch the website in June at www.sakonnetgarden.com to see if this pollinator garden will also be open in July 2017.]

Tulips and trilliums and may apples, oh my! Sakonnet's spring open days for 2017 should occur at the peak of tulip time, with hundreds of trilliums and other woodland wildflowers in flower. Blue poppies and the gaudy "azalea hedge" should be just starting. This may be the last year before the aging "rhododendron punchbowl," a confection of pinks and whites, is redesigned.
Specialty nurseries on site to sell plants include:
Opus Nursery – Ed Bowen's new perennials and rare plants
Broken Arrow Nursery – wonderful, hardy woody trees, shrubs
Rare Find Nursery –new shrubs, rhododendrons, perennials
Peckham's Greenhouse –perennials from a local family nursery

Directions: From north, it is about 5.6 miles south of traffic light at Tiverton Four Corners (with Gray's Ice Cream stand). It is on left 0.07 mile after sign "to Commons" and just after Taylor's Lane. Small sign on tree reads "510". Park along street.
Open Days 2017: May 20 & 21.
Hours: 9:30 a.m. to 6 p.m.
SPECIAL PRICING FOR OPEN DAYS AT THIS LOCATION IS $20 PER PERSON. Supports Sakonnet Garden, local wild meadow restoration and the Garden Conservancy's Open Days program. Please note that Open Days tickets are not accepted during these Open Days.

---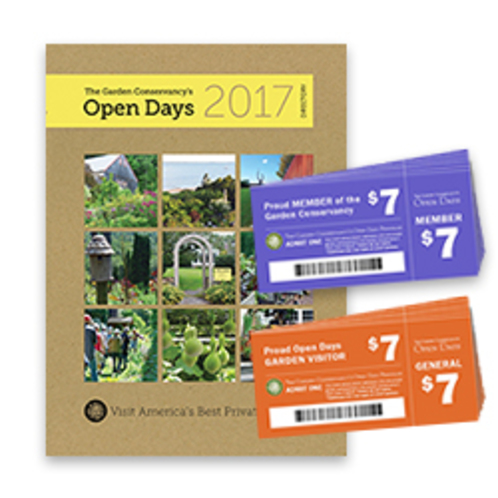 Order Books & Tickets!