Canaan, NY

Water feature, Edibles, Open Days
This large garden comprises a variety of areas that flow one from another over about ten acres of our property. A 450-foot-long rock ledge runs parallel to the front drive and is topped by a dry garden. A raised terrace on the west side of the house features exotic and tropical plants, many in containers. Behind the house is a sequence of garden rooms: a lavender garden contained within a raised hornbeam hedge, a pool garden surrounded by perennial beds, a water garden, a sundial garden, a rock garden and a fenced vegetable and cutting garden. A hydrangea allée leads from here to either a lawn with a seating area nestling within sweeps of perennials, or to steps up to a small, wooded knoll, with paths offering intermittent views of the garden and the hills beyond and connecting a folly, a water feature and a stumpery. A massive pine bench in a pine grove overlooks a three-acre lake in the middle-distance. Our garden has been featured in magazines and in the books Great Gardens of The Berkshires, Private Edens, and Private Gardens of The Hudson Valley.
Directions: From west, take Route 295 (last exit before toll going north on Taconic State Parkway) through East Chatham to flashing traffic light at intersection of Route 5 in Canaan. Immediately after intersection, turn left onto Upper Queechy Road and then left again at end. Look for a parking sign.
From east, take Route 295 from Route 41 in Massachusetts or from Route 22 in New York past Queechy Lake on right, and Stony Kill Road is the first dirt road on right. Go about 0.5 miles and look for a parking sign.
Open Days 2017: July 23
Hours: 10 a.m. to 4 p.m.
Admission to this garden is $7 for members and nonmembers without tickets purchased in advance.
Buy discounted admission tickets in advance! They never expire and can be used at most Open Days to make garden visiting easier.
Nonmembers get 6 visits for the price of 5 with advanced ticket book purchase.
Members get 50% off ONLY by purchasing ticket books in advance.
This garden allows photography
This garden is handicap-accessible
---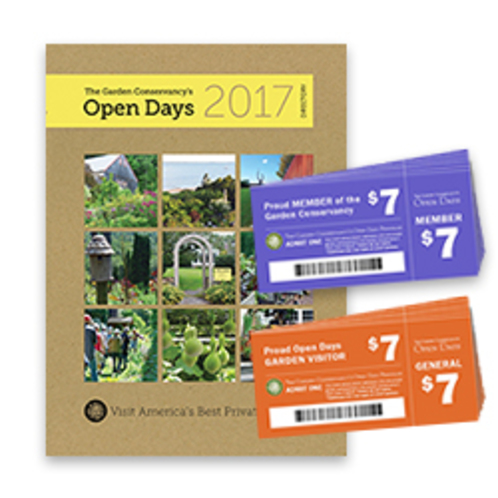 Order Books & Tickets!