New Hope, PA

Open Days, Water feature, Plant Sale
Nestled in scenic New Hope, Paxson Hill Farm is twenty acres of stunning landscapes. The property features a variety of disciplines, from a formal parterre garden to a 330-foot double-sided perennial border and a naturalistic shade garden with ponds. The attention to detail is highlighted by a maze garden, a natural earthen structure, and a recently designed conifer garden. The gardens, known for numerous rare plants, have been designed to offer seasonal enjoyment. They are the perfect stop on a tour of Bucks County.
Plants will be available for sale on site through the Paxson Hill Farm nursery.
Directions: From Lahaska, PA/Peddler's Village, at the intersection of Routes 202 and 263, take Route 263 north 3.2 miles then turn left onto Comfort Road. Go 1 mile and the farm is on left.

From New Hope, PA take Route 32 North turn left onto Route 263 South. At the top of hill, turn right onto Comfort Road. Go 1 mile and farm is on left.
Open Days 2018: May 26, July 14, August 4
Hours: 10 a.m. to 4 p.m.
Admission to this garden is $7 for members and nonmembers without tickets purchased in advance.
Buy discounted admission tickets in advance! They can be used at most Open Days to make garden visiting easier.
Nonmembers get 6 visits for the price of 5 with advanced ticket book purchase.
Members get 50% off ONLY by purchasing ticket books in advance.
This garden allows photography
Parking is available
---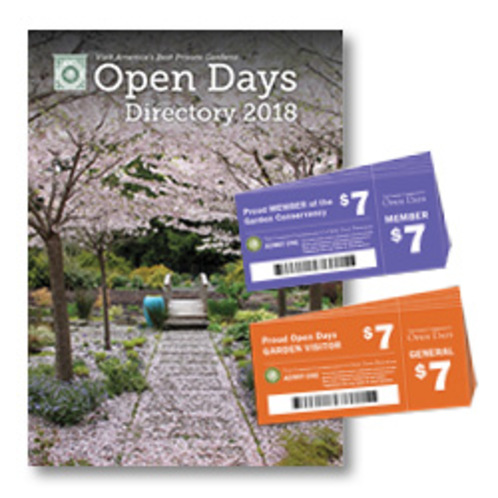 Order Books & Tickets!