Hollister House Garden Study Weekend VIII
Heritage Hotel
Sat, Sep 8, 2018

8:00 AM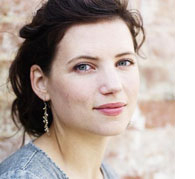 Sarah Price
Plants First
Sarah Price is one of Britain's most prominent and distinctive garden designers. She achieved worldwide recognition for her work as a co-designer of the 2012 Gardens at London's Olympic Park, and won the Gold Medal at the 2018 Chelsea Flower Show. Ms. Price's training in fine art and her lifelong love of wild and natural environments are reflected in her gardens, which are often described as painterly. Sarah believes in plant-driven design and is developing a visual vocabulary using plant shapes, forms, and patterns to compose her designs. Through an overview of past and current work, she will give real examples and show how her design processes work.
Kelly Norris
Planting on the Wild Side: Inspirations, Ideas, and Recipes
Kelly Norris, award-winning plantsman and author, is the Director of Horticulture at the Greater Des Moines Botanical Garden, a newly revitalized public garden. Mr. Norris believes that gardens inspired by natural systems promote authentic connections among land, environment, and humanity. In this lecture, brimming with examples from public and private spaces around the world, Kelly will show how gardeners can celebrate the experience of bringing nature closer to home through expressions of wilderness and intentional consideration of how plants grow over time.
Lynden Miller
Beatrix Farrand: Inspiration and Mentor
Lynden Miller is a renowned public garden designer in New York City. Based on her belief that good public spaces can change city life, she has designed over 40 gardens and parks since 1982. Trained as a painter, Mrs. Miller studied horticulture at New York Botanical Garden before beginning her public career. In this presentation, she will talk about how her passion and fascination with the work of Beatrix Farrand at Dumbarton Oaks, the Rockefeller Garden in Maine, Princeton University, and other places, inspired her work in New York City. She will preview the upcoming PBS film on Farrand that she is hosting.
Taylor Johnston and Ed Bowen
The Cutting Garden Reimagined
Taylor Johnston (formerly Garden and Greenhouse Manager at the Isabella Stewart Gardner Museum) and Ed Bowen (formerly proprietor of nano-nursery Opus Plants) have teamed up to form a collaborative, experimental nursery project called Issima. Issima focuses on growing and selecting under-cultivated, garden-worthy plants, growing specialty cut flowers, and pursuing a limited number of garden-design projects. In this talk, Taylor and Ed will ask if a cutting garden should merely be defined by productive rows. They will share years of observation, experimentation, and inquiry into the idea of a cutting garden.
Barbara Paul Robinson
Heroes of Horticulture: Americans Who Transformed the Landscape
During a sabbatical from the leading international law firm Debevoise & Plimpton, where she was the first woman partner, Barbara worked as a gardener for Rosemary Verey at Barnsley House. A hands-in-the-dirt gardener herself, she and her husband have created their own gardens at Brush Hill in northwestern Connecticut, which has been featured in articles, books, and on television. She will share a few stories about heroes of horticulture from her latest book—institution builders, plant explorers, and garden creators—all of whom have had a major impact on the American landscape.
---
Schedule of Events
8:00 Registration and light continental breakfast
9:00 Welcome on behalf of Hollister House by George Schoellkopf
12:00 Lunch and shopping at Hickory Stick Bookshop
1:00 Welcome on behalf of the Garden Conservancy by James Brayton Hall
4:00 Cocktails and preview buying at the Sale of Rare and Unusual Plants at
Hollister House Garden, Washington, CT
The symposium will be moderated by Edwina von Gal.
PLEASE NOTE: THE SYMPOSIUM IS SOLD OUT.
Make it a gardening weekend...
Pllease also join us on Sunday, September 9 for Litchfield County Open Day, which will feature private gardens in Litchfield County and Hollister House Garden. Also on Sunday - Hollister House Garden's Sale of Rare and Unusual Plants.