Blithewood Garden is a formal Italianate walled garden located on the main campus of Bard College in Annandale-on-Hudson, New York. At 15,000 square feet, it is a garden on an intimate scale within a grand setting: the awe-inspiring backdrop of the Catskill Mountains and the Hudson River. The site has significant connections to the heritage of the Hudson Valley region and the evolution of American landscape design.
Designed by Francis Hoppin in the early twentieth century, the garden's style is typically Beaux-Arts: highly architectural, with paths on geometric axes, symmetrical beds, a central water feature, statuary, and marble ornaments. The walls create a peaceful, green room that looks out over the Hudson River. The view is framed by a copper-roofed gazebo flanked by two wisteria-covered pergolas. The surrounding lawn areas of the Blithewood property contain many of the campus's most important and venerable tree specimens, including a former New York State Champion tree that is estimated to be over 300 years old.
TIMELINE
2020
The Blithewood Historic Vista Restoration project receives a grant from the New York State Department of Environmental Conservation's Hudson River Estuary Program and the New England Interstate Water Pollution Control Commission. Slated for completion by spring 2021, the project will reopen a window to the Hudson River from a new perspective.
In September, the Garden Conservancy and Udris Film began production of a short film about Blithewood, which will be a key tool to help raise awareness of the significance of the garden and the urgent need to save it.
2019
The Garden Conservancy hires Albany-based firm Lacey Thaler Reilly Wilson Architecture & Preservation, LLP to do design development level drawings and develop repair strategies for the rehabilitation of Blithewood.
2018
Bard College, the Friends of Blithewood Garden, and the Garden Conservancy partner to celebrate Blithewood Garden's 115th anniversary with an afternoon lawn party, followed by a panel discussion, "The Architectural Garden: Challenges of Preserving Formal Structures in the Landscape," on September 22.
2017
Blithewood Garden: Structured Beauty, presented by Bard College and the newly-formed Friends of Blithewood Garden group, is on exhibit in June and July.
2016
Garden Conservancy and Bard College enter into an agreement to work together to develop a strategy to rehabilitate Blithewood Garden. Read the press release.

Bard acquires adjacent Montgomery Place, adding 380 acres and making the campus a total of 930 acres.
2015
Blithewood approaches the Garden Conservancy for assistance with developing a strategy to address restoration of the garden, including formation of a sub-committee of the Friends of Bard Landscape and Arborteum group.
2008
Preservation Master Plan for Bard College is completed; Bard Landscape and Arboretum Program begins documenting its plant collections and individual specimens.
2007
The college campus, including Blithewood Garden, is dedicated to the newly formed Bard Landscape and Arboretum Program.
1955
Bard College sells a portion of the estate.
1951
Captain Zabriskie's son, Christian, formally transfers the Blithewood Estate to Bard College.
1899
Captain Andrew C. Zabriskie purchases the Annandale estate and renames it Blithewood. Gothic house is torn down and Zabriskie commissions Francis Hoppin, a graduate of MIT and École des Beaux-Arts, to design a thirty-room Georgian mansion and Italianate gardens.
1860
The Bards donate 18 acres of their Annandale estate to the nascent St. Stephen's Seminary, which later becomes St. Stephen's College and, eventually, Bard College.
1853
John and Margaret Bard purchase the Blithewood property, calling it Annandale.
1835
Robert Donaldson, Esq., of North Carolina, purchases Blithewood and hires family friend Alexander Jackson Downing and architect A.J. Davis, who make the estate a classic example of American Picturesque style, with a Gothic Revival house set in rolling lawns.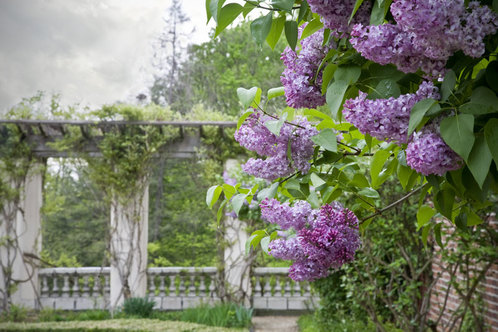 Help support the restoration of Blithewood Garden
Bard College Arboretum Video
A video about Bard College's arboretum gives a shout out to the Garden Consrvancy and our partnership to restore Blithewood Garden in Annandale-on-Hudson, NY.
Panel discussion, The Architectural Garden, Sept. 22, 2018
Bard Lifetime Learning Institute