Growing a Legacy: Two New Works of Art at the John Fairey Garden
Excerpted from the September 2021 issue of Garden Conservancy News
John Fairey is gone. Much has been written and said about the polymath who founded the Texas garden that now carries his name, but it's likely that nothing will carry his legacy forward more effectively than the place he called home.

On November 13, the John Fairey Garden will celebrate the man, and what he left us. The fête will include the official unveiling of his final two projects: a mind-boggling mosaic created by nationally renowned Houston artist Dixie Friend Gay; and a beautifully designed, COR-TEN® steel, stainless, and ipe wood bridge by Andrew Vrana, a former student of Fairey's and the principal architect of METALAB, LLC, which is also based in Houston. "These projects are a continuation of the garden's long-term relationships with craftspeople and art people," says Randy Twaddle, executive director of the John Fairey Garden.
The Mural
Friend's mural is a kaleidoscopic expression of the biodiversity of the upper Gulf Coast region of Texas. "People are already in awe of it," said Twaddle. It is sited prominently and, at seven feet tall and 24 feet long, features plants and animals of the garden created with roughly 100,000 pieces of glass. Friend finds constant inspiration in a native garden and habitat areas at her downtown Houston home. It and her
"Wild Wonderland" public art installation in Houston were visited by Fairey, who then commissioned a mosaic for the garden. "My intent," she explains, "was to capture the essence of John's vision for this unique garden. John was an artist with plants."
Her complex and fascinating process includes the creation of Smalti glass tiles; molten glass with added colorants, broken up to make pieces. Covid-19 complicated the fabrication of the mural, which was done in Montreal. Much of the collaboration necessary to achieve the final piece was conducted by FaceTime because of travel restrictions.
The wall recalls the Maxfield Parrish/Louis Comfort Tiffany collaboration, "The Dream Garden," in Philadelphia, and presents incredibly detailed vignettes of garden life. Like the best murals, it's accessible on a second and deeper level. "It's like confetti," says Friend, "up close, the images break apart and abstract."

It's not hard to understand the connection she established with Fairey before his passing in 2020. "My work," her website states, "celebrates the mystery and power of nature. I value the power of art to move one emotionally and physically, striving to create art that access[es] the collective unconscious."

The Bridge
Long disconnected from the rest of the garden, the North Dry Garden is once again accessible to visitors after the August installation of an artistic new bridge designed by Andrew Vrana of METALAB, LLC, of Houston, TX. It has a "very elegant form," according to Twaddle. "I'm excited because it will open up a significant piece of the garden that visitors haven't had the chance to visit."
Vrana met Fairey over 30 years ago as a student in Fairey's environmental design studio at Texas A&M University. "He really didn't even mention the garden at that time. It was sort of his secret garden; an escape from the stress of teaching and A&M," he says. "John's concern was to replace the bridge and he wanted it to be indelible, made of materials with lasting effect," says Vrana, whose design was inspired by an early 1960s Carlo Scarpa bridge at the Palazzo Querini Stampalia in Venice, Italy. "The look is an expression of its structure."

Rendering of "Footbridge for John" by METALAB, LLC, Houston, TX

Vrana uses decidedly modern techniques to design even relatively simple, early constructions like bridges. Advanced computation and digital fabrication allow innovative use of materials. While constructed with the latest technical and engineering methods, "The bridge draws upon nature," says Vrana. "You simultaneously see symmetries and asymmetries."
Called "Footbridge for John" by its designer, the structure is designed to handle occasional torrential flooding by allowing water to pass not just under, but through its main truss assembly. "It should last forever," says Twaddle.
In a big year for the John Fairey Garden, it now has two outstanding features that will stand the test of time—permanent exemplars of the man and the things about which he cared the most.
---
Read more about the John Fairey Garden.
Read the full version of our September 2021 print newsletter.
Dixie Friend Gay and the Mosaika installation crew with her mural
Mural detail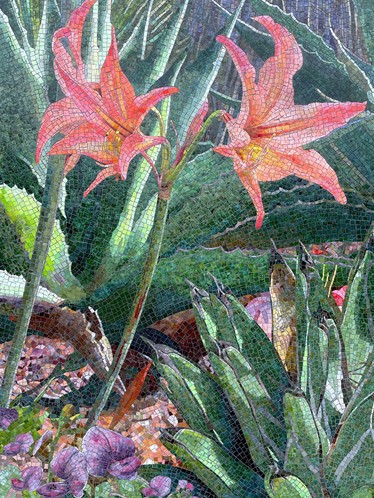 Mural detail