Distinguished Garden Properties for Sale
Note: This page includes garden properties connected with the Garden Conservancy's preservation, Open Days, or other programs. It is provided as a courtesy to our partners and in support of our mission of saving outstanding American gardens. It is by no means a comprehensive or complete list of garden properties for sale.
Posted June 20, 2018:
Erchless, Old Westbury, NY

Built for Howard Phipps, youngest son of Henry Phipps, Jr., who made his fortune at Carnegie Steel, Erchless offers the rare opportunity to own a "Gold Coast" estate still owned and lived in by the original family who built it nearly a century ago. The property, a 90-acre-plus property in the heart of Old Westbury, has participated in the Garden Conservancy Open Days program for many years.
Kept in glorious, pristine condition throughout, the fifteen-bedroom, twelve-bath mansion is like a time capsule transporting you back to a time known on Long Island's North Shore as the "Golden Age." Far from the mansion and hidden beyond fields and a wall of 80-foot-high beech trees, a well-cared-for farm and stables, with many out buildings and staff housing, make the estate virtually self-sufficient. Perhaps the most impressive feature of this magnificent estate is its incredible, enchanting, and seemingly endless array of gardens and towering specimen trees. For more than 60 years, award-winning varieties of rhododendrons have been bred here. Today, this botanical paradise is considered one of the best rhododendron gardens in the Northeast. For further information regarding this property, please see:
Posted May 2, 2018:
The Balcony, Ellen Biddle Shipman garden, Aiken, SC

At the height of her career, Shipman, in collaboration with Long Island and Aiken architect Julian Peabody, designed a rare southern landscape, "The Balcony," for major New York patrons Mr. and Mrs. Seymour Knox. Shipman creatively sited the light-filled, Georgian-inspired country house on a six-acre walled property with numerous French doors opening to gardens, terraces, and lawns. Her keynote design feature is a long azalea allée centered on the Fiske wrought iron New Orleans balcony terrace from which the house takes its romantic name. More than 60 varieties of two-story heritage camellias, blooming all winter, surround the house. Also featured are majestic tea olives, magnolias, hedges of gardenias, fig trees, and banks of azaleas everywhere. Current owners are Garden Conservancy members. Good for today's maintenance, most of the Shipman plan is dedicated to trees and shrubbery, not flower gardens. Very private but conveniently located in historic Aiken, the grounds include a recent pool/fountain, historic stable, and a three-bedroom estate cottage. The main house features major entertaining spaces, elegant woodwork, skylights, eight fireplaces, seven primary bedrooms, other bedrooms, and excellent service spaces. Adjoins the Historic Horse District with sandy lanes and easy walk or hack to 65 miles of trails in 2,500-acre Hitchcock Woods.

For more information, please contact David Stinson at 803.640.0123 or aikenhomes@me.com.
Posted May 1, 2018:
Gertrude Jekyll-Inspired Garden, Martha's Vineyard, MA

This garden features 1,000 square feet of terraced herbaceous borders in an agricultural setting. Ben and Susanne Clark designed and created their property beginning in 1992 on a wooded hillside overlooking a working farm. Ben, whose profession was architectural restoration and preservation, moved the 2½-story, center-chimney, classic colonial c. 1735 home from another part of the island, fully restoring it in the process. Susanne designed the garden, which takes its inspiration (including the general layout of the beds, walls, and central steps) from one designed by the English garden designer Gertrude Jekyll. The original 1920s design was done for a house, then known as Walsham House, that was an Edwardian mansion set high in the Surrey Hills. Highlights include the warm and cool borders, stone terraces, and a garden house. The garden participated in the Garden Conservancy Open Days program in 2017 and Susanne Clark presented a Digging Deeper educational program during the Open Day.
For further information regarding this property, please visit www.russellmaloney.com/properties/14-Ben's-Way.html.
Posted July 19, 2017:
Fenimore Road, Larchmont, NY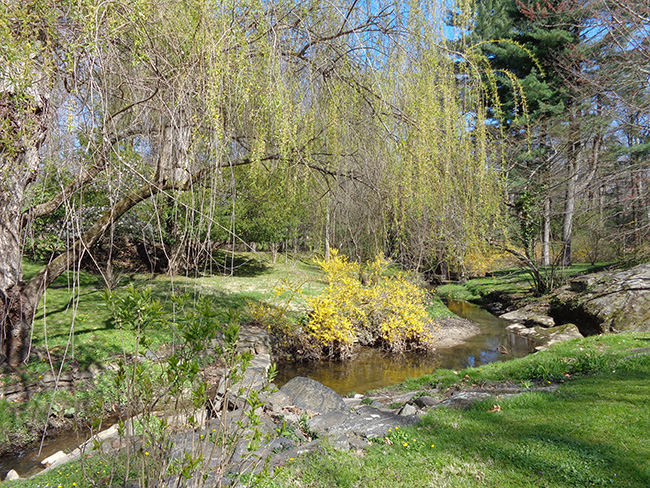 This unique Larchmont garden was designed in the 1930s by Ellen Biddle Shipman and enhanced in the 1980s by Lester Collins, the renowned landscape architect of Innisfree in Millbrook, NY. The garden consists of over six wooded acres of mature trees surrounded by dry stone walls. The neo-Georgian house, with terraces looking out over the garden, dates from 1927.
A stream flows though the undulating and rocky grounds over waterfalls designed by Shipman and Collins. Collins also created riprap to bring the stream into focus in the landscape. Large banks of native rhododendron provide privacy and separate spaces, with an elevated secret garden reached by a path of stone steps hidden by shrubbery.
Following the lay of the land with a perfect composition of rock, water, woods, and sky, this special American stroll garden encourages exploration. For further information, please contact barbara.rosenblum@juliabfee.com.
Posted April 6, 2017:
Princeville Botanical Gardens, North Shore Kauai, Hawaii

A remarkable botanical garden with stunning mountain, waterfall, and ocean views in a serene and peaceful setting complete with broad trails carved into terraced hillsides, expansive gardens, tapered valleys, flowing streams, and over 700 plant varieties. The property affords easy access to Hanalei Bay, Princeville, Anini Beach, and other attractions of the North Shore of Kauai. Includes a beautiful, craftsman agricultural building, as well as a site to build a new home and a guest house. This is a unique opportunity to reside in a world-class botanical garden located in one of the world's most beautiful locations.
For complete information about this botanical garden and estate, please visit www.PGBoffering.com or contact owner William Robertson directly at williamrobertson1008@gmail.com.
Posted July 27, 2016:
Meredeth and Leonard Allen's Garden, Francestown, NH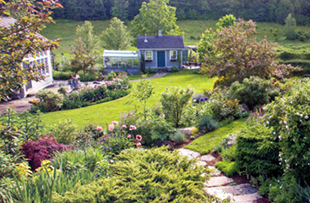 This "magnificent strolling garden" (as described by garden writer Tovah Martin) was part of a Garden Conservancy Open Day in 2010; the property is on the New Hampshire Register of Historic Places. Five herbaceous borders begin near a quarter-acre stream-fed pond, are backed by ancient stone walls and a quarter-acre woodland garden, and partially surround a bluestone terrace and garden cottage. A historic American elm and five giant locusts frame the 1779 classic Georgian colonial residence. For more information, please email ccambal-hayward@masiello.com.