Fellows Focus: Maureen Ruettgers Speaks the Language of Flowers
On September 14, visitors to the verdant Gardens at Clock Barn in Carlisle, MA, were treated to an extra special program as Maureen Ruettgers welcomed the public to her extraordinary exhibition,"The Language of Flowers," of the floral ephemera of the Victorian era, and the centerpiece of an Open Day filled with activity and adventure for all.

In Victorian society, flowers formed an intimate language of their own with each flower assigned a particular meaning. Learning their special symbolism became popular during the nineteenth century. Emotions that could not be stated publicly could be expressed through flowers that were given or worn. Maureen has developed an exquisite collection of porte bouquet holders and related ephemera, which formed the core of the exhibition. Maureen and fellow members of the Herb Society of America also helped visitors (photo above) make their own tussie-mussies, small, hand-held bouquets that convey heart-felt messages in the language of flowers. Other highlights of the Open Day included Victorian tea and cookies, a potpourri table, fun flower facts, beekeeping demonstrations, and pollinator discussions. Scavenger hunts (for both kids and adults) were also available throughout the day, as were strolls through the entire site, including a walled garden, greenhouse, woodland garden, kitchen garden, and secret garden.

One couldn't help but feel like someone from the Victorian era when entering the Gardens at Clock Barn, with plants and flowers assaulting all the senses for the attention of the messages they hold. "Gardens are a positive force in a complicated world," Maureen reminds us.



With Brian Hone, a consulting exhibition designer who also works for the Isabella Stewart Gardner Museum in Boston, Maureen curated a unique collection of ephemera capturing the Victorian era's obsession with flowers. During this time, tussie mussies were presented everywhere, popping up in handheld holders, lapel pins, tripod table-top holders, and small child-sized holders. Maureen's collection contains some of the finest examples of porte bouquet holders, which were often made of silver or gold and embellished with gems and other semi-precious stones.

Accompanying the exhibit, Maureen and Brian included period clothing; engravings from J.J. Grandville's Les Fleurs Animees, published in Paris in 1840, illustrating flowers personified in the form of maidens; and thirty specially commissioned shadow boxes displaying the most important flowers in this romantic art, each handmade of paper by artist Linda Hamilton.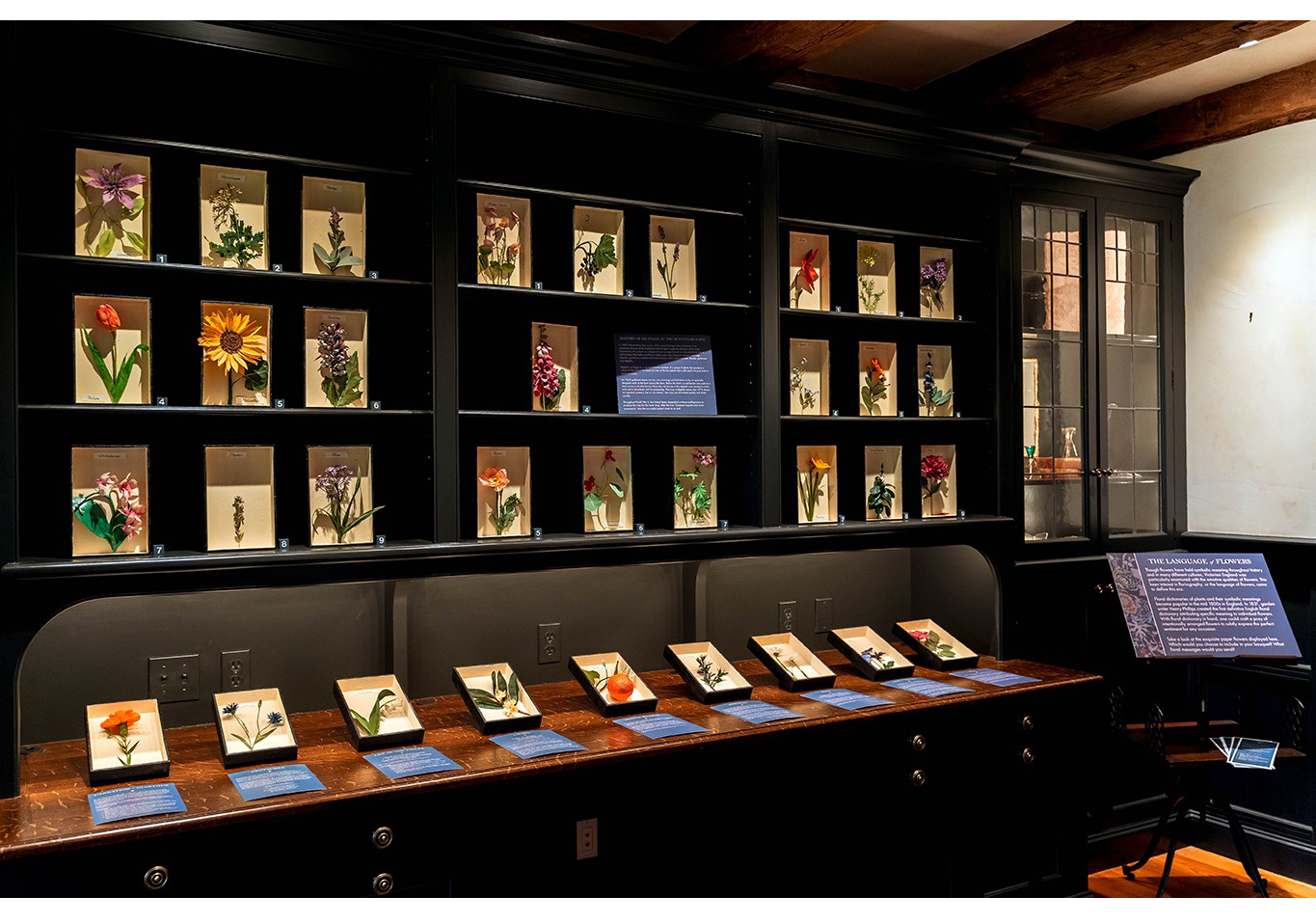 For nearly 40 years, Maureen and her husband, Michael, have gardened at their 1790s home in Carlisle, MA. First sharing their joy for gardening with their own children as they wandered the gardens searching for the ripest produce to sample, they now welcome hundreds of visitors through the gate of their Gardens at Clock Barn during our annual Open Days program. Open Days hosts since 2009, the Ruettgers have always made sure their gardens are an engaging space for everyone, from the smallest garden enthusiasts to the most seasoned; little climbers can explore the tree house and fruit trees while idle wanderers enjoy the reflecting pools and secret gardens. Visitors of all ages enjoy the woodland gardens, vegetable and herb beds, greenhouse and potting area, drying barn, 100-year-old oaks, antique roses, grape arbor, and more.

Maureen's passion for gardening began with a piqued interest in herbs; now a member of the Herb Society of America, Maureen was led to discover the Victorian language of flowers. In addition to her lifelong work as caretaker at the Gardens at Clock Barn, Maureen is also an education and arts activist. She serves as vice-chair of the Maranyundo Initiative, which provides education for girls in Rwanda, and as a trustee at the Isabella Gardner Museum.


Gardens teach us many things, helping us to be better citizens as we join together in our shared commitment to caring for the earth. Gardens also reflect our cultural values; if flowers were a reflection of the social messages of the Victorian Era, Maureen's gardens reflect our desire today to create spaces of beauty and connection, of shared environments for people of all ages and abilities.

Photos of "The Language of Flowers" exhibition and the Gardens at Clock Barn are by Faizal Westcott and by Brian Jones.