Washington County, RI Open Day
Garden of Louis Raymond and Richard Ericson
Sat, Aug 26

10:00 AM
-
3:00 PM
This is landscape-designer Raymond's own garden; it's all about explorations, whims, and manias. With "only" one and one half acre, few trees or shrubs grow free-range. Instead, hedges, Belgian fences, and espaliers creates the narrowest-possible separators. Woodies are also trained ornamentally as pollards, coppices, portals, standards, pillars, and topiary. All of this "hortitecture" rises from beds crowded with perennials, annuals, and tender woodies. A hoard of container plants crowds the grass and the paths, in addition to the focal spots at the ends of the vistas.
Directions: From Rhode Island Route 95, take Exit 1 onto Route 3/Main Street. Go north just under one mile to the yellow blinking light. Number 495 Main Street is on far left just north of the light, immediately past the charming corner take-out. Unusual plants crowd the front of our center-chimney colonial, while a massive hedge of American holly separates us from the corner store. You will immediately know that you have found us. Parking is plentiful but eccentric: immediately at the front of the house; at the right of the corner-store's lot; turning right at the blinking light, along both sides of Woodville Road. There is no parking in the driveway of 495 Main Street itself, which is immediately north of the house. Access the garden by walking up the 495 driveway.
Open Days 2017: August 26.
Hours: 10 a.m. to 3 p.m.
Admission to this garden is $7 for members and nonmembers without tickets purchased in advance.
Buy discounted admission tickets in advance! They never expire and can be used at most Open Days to make garden visiting easier.
Nonmembers get 6 visits for the price of 5 with advanced ticket book purchase.
Members get 50% off ONLY by purchasing ticket books in advance.
*There are additional gardens open on this date in nearby New London County, CT; click here for details.
Digging Deeper event! "Natural is for Wimps: Training Plants into Extraordinary Shapes," with Louis Raymond; 3:30 & 5 p.m. Registration information here.
Save
Save
Save
Save
Save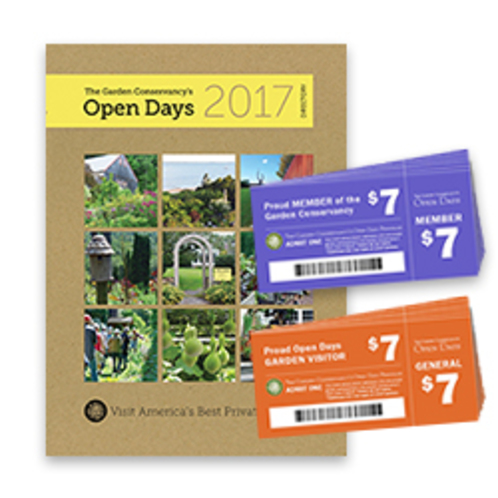 Order Books & Tickets!
This event has already passed
Did you attend?
The Garden Conservancy would love to hear what you thought about the event.
Share Your Feedback