Suffolk County, NY Open Day
Sat, May 26, 2018

10:00 AM
-
4:00 PM
*Please note: the garden of Dianne Benson in East Hampton will not be open on this date as listed in the 2018 Open Days Directory.
Admission to each garden is $7 for members and nonmembers without tickets purchased in advance.
Buy discounted admission tickets in advance! They can be used at most Open Days to make garden visiting easier.
Nonmembers get 6 visits for the price of 5 with advanced ticket book purchase.
Members get 50% off ONLY by purchasing ticket books in advance.
Digging Deeper programs at Edwina von Gal's Marsh House:
10:30 a.m. to 4 p.m.: Tea for Two, the Soil and You! Sip delicious tea in the garden while we demonstrate how to create aerated compost tea for soil health and productivity! Learn about the equipment, the process, and the benefits of adding compost tea into your organic gardening routine. There is no additional fee for this program and no registration is required.
11 a.m. & 3 p.m.: Walk with Edwina von Gal to explore the garden she calls her "play pen, laboratory and retreat...an unruly, willful version of what I do for my clients." There is no additional fee for these tours and no registration is required.
2 p.m.: Perfect Earth Seed Bomb Workshop. Adults are invited to come and make Fukuoka-style seed bombs (don't worry, we'll explain!). We will use clover and pollinator attracting wildflower mixes and learn about the importance of native pollinators, how to promote and protect their populations, and the best ways to ensure your seed bombs grow and become healthy habitat for wildlife. Children are welcome! Materials and refreshments will be provided. There is no additional fee for this program, please register at the garden.
Chip Rae & Chuck Schwarz

Hidden away on a short private lane at the edge of East Hampton Village, our house and gardens have been the object of our affection for thirty years....

Edwina von Gal—Marsh House

I am a landscape designer and environmentalist, my goal is to create beautiful gardens without synthetic chemicals....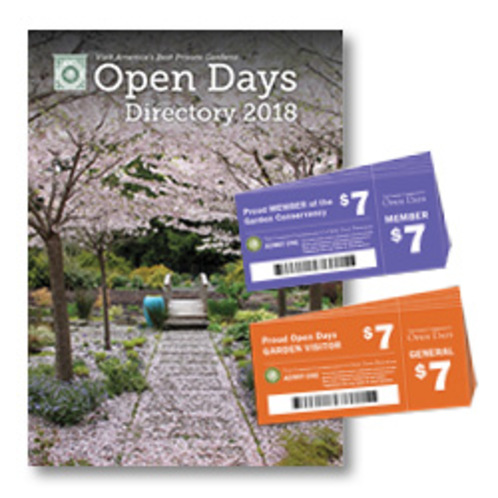 Order Books & Tickets!
This event has already passed
Did you attend?
The Garden Conservancy would love to hear what you thought about the event.
Share Your Feedback