Suffolk County, NY Open Day
Two Grey Achers
Sun, May 6, 2018

10:00 AM
-
4:00 PM
Designed, executed, and largely maintained by its owners to provide seasonal interest every day of the year, this garden, adjacent to Conscience Bay on Long Island's North Shore, has conifers large and small, rhododendrons, azaleas, Japanese maples, and companions to create a tapestry of color, texture, and form. Its favorable maritime microclimate is reflected in the broad range of taxa thriving on this extensively planted site. Those visitors returning to the garden since it was last included in the Garden Conservancy Open Days program will see a somewhat expanded and much matured landscape. In addition, the favorable 2017 summer season has resulted in exuberant growth and a phenomenal rhododendron flower bud set promising an exceptional show in May.
Directions: Take Route 495/Long Island Expressway to Exit 62. Take Route 97/Nicolls Road North to end at Route 25A. Turn right onto Route 25A and then left at the first traffic light. Go through four stop signs to end at the stone bridge. Turn left over stone bridge onto Old Field Road. Go about 2 miles to #88 on the left. There is no name on the mailbox, but the number 88 shows clearly. There is no roadside parking in the Village of Old Field. Cars should pull off the roadside onto the front lawn.
Open Days 2018: May 6
Hours: 10 a.m. to 4 p.m.
Admission to this garden is $7 for members and nonmembers without tickets purchased in advance.
Buy discounted admission tickets in advance! They can be used at most Open Days to make garden visiting easier.
Nonmembers get 6 visits for the price of 5 with advanced ticket book purchase.
Members get 50% off ONLY by purchasing ticket books in advance.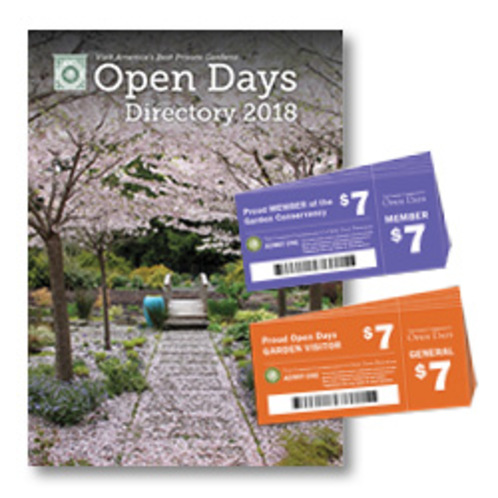 Order Books & Tickets!
This event has already passed
Did you attend?
The Garden Conservancy would love to hear what you thought about the event.
Share Your Feedback