Suffolk County, NY Open Day
Sat, Jun 3

10:00 AM
Please note the hours for each garden differ on this date.
The Entwood Garden in Bridgehampton has been added to this date after publication of the 2017 Open Days Directory.

Admission to each private garden is $7. Don't miss a free bonus visit to Fireplace Farm in East Hampton!
Don't forget to buy discounted admission tickets in advance. They never expire and can be used at most Open Days to make garden visiting easier.
Additional activities on this date include:
Digging Deeper event! "The Art of Elegance—An Afternoon at Home with Marshall Watson." 4 p.m. To celebrate the publication of his first book, The Art of Elegance: Classic Interiors, interior designer and avid gardener Marshall Watson will spend the late afternoon with an intemate group, discussing his ideas while exploring his waterfront home both inside and out. Click here for registration details.
Family Time—Bee Hotel Workshop at the garden of Edwina von Gal, 962-964 Springs Fireplace Road, East Hampton. 2 p.m.
Children and parents are then invited to make native bee hotels using upcycled and natural materials. Your family will learn about the importance of native pollinator populations and how to protect them in the spaces you own and visit. Materials will be provided. Garden admission is $7 per person and children 12 & under are free. There is no additional fee for this program, but registration is required and space is limited. Call 1(888) 842-2442 or email opendays@gardenconservancy.org to register.

Experts in the Gardens! See additional details at each of the garden listings below. There is no additional fee for these programs.
Prfect Place Celebration at the garden of Edwina von Gal, East Hampton; 10 a.m. to 4 p.m. Q & A on toxin-free landscaping. Edwina and her colleagues from the nonprofit Perfect Earth Project—promoting toxin-free lawns and landscapes for the health of people, their pets, and the planet—will answer questions about toxin-free landscape maintenance. Edwina will also give personal tours of her own garden at 10 a.m., 11 a.m., 1 p.m., and 3 p.m.
At Fireplace Farm, East Hampton; 2 to 4 p.m. Farmer, kitchen garden designer, Farmers Market & CSA manager Paul Hamilton will share his wealth of hands-on growing expertise with fellow gardeners interested in fruit, veg and cut flowers, and answer questions about the farm, CSAs, and farmers markets.
Save
Save
Save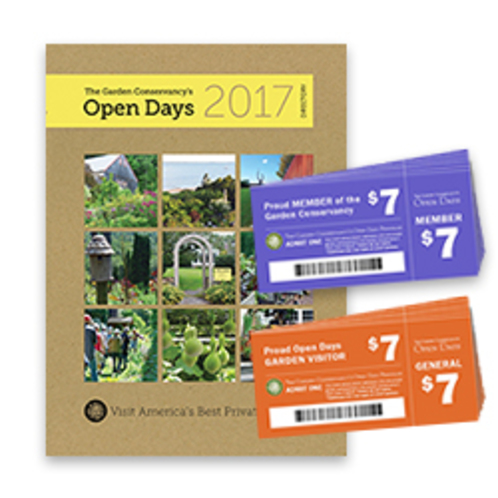 Order Books & Tickets!
This event has already passed
Did you attend?
The Garden Conservancy would love to hear what you thought about the event.
Share Your Feedback