Putnam & Westchester County, NY Open Day
Sun, Sep 9, 2018

10:00 AM
*There is an additional garden open in nearby Fairfield County, CT on this date; see their listing below. Hours vary.
*SCHEDULE CHANGES: The Eastward garden in Brewster has been added to this date after publication of the 2018 Open Days Directory, and the garden of James & Susan Henry in Waccabuc will not be open as scheduled.

Admission to each private garden is $7 for members and nonmembers without tickets purchased in advance.
Buy discounted admission tickets in advance! They can be used at most Open Days to make garden visiting easier.
Nonmembers get 6 visits for the price of 5 with advanced ticket book purchase.
Members get 50% off ONLY by purchasing ticket books in advance.
Eastward

We began the gardens at Eastward in 2000, after the land was cleared and excavating for the driveway, buildings, and paddocks was finished. The topsoil was very scanty and poor...

Garden of Bernard Marquez & Tim Fish

The garden consists of several garden rooms on different elevations. There are a considerable variety of boxwoods and other broadleaf evergreens, most notably mountain laurel...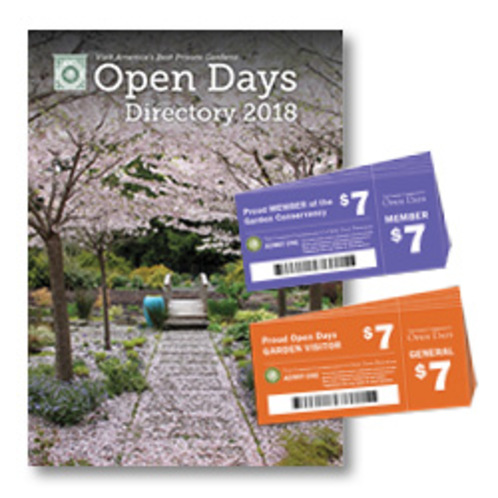 Order Books & Tickets!
This event has already passed
Did you attend?
The Garden Conservancy would love to hear what you thought about the event.
Share Your Feedback