Putnam & Westchester County, NY Open Day
Sun, Sep 9, 2018

10:00 AM
*There is an additional garden open in nearby Fairfield County, CT on this date; see their listing below. Hours vary.
*SCHEDULE CHANGES: The Eastward garden in Brewster has been added to this date after publication of the 2018 Open Days Directory, and the garden of James & Susan Henry in Waccabuc will not be open as scheduled.

Admission to each private garden is $7 for members and nonmembers without tickets purchased in advance.
Buy discounted admission tickets in advance! They can be used at most Open Days to make garden visiting easier.
Nonmembers get 6 visits for the price of 5 with advanced ticket book purchase.
Members get 50% off ONLY by purchasing ticket books in advance.
Eastward

Eastward is a boarding and training facility with a primary focus on dressage. Beds lining the indoor and outdoor arenas provide both sun and shade for perennials...

Garden of Bernard Marquez & Tim Fish

The garden consists of several garden rooms on different elevations. There are a considerable variety of boxwoods and other broadleaf evergreens, most notably mountain laurel...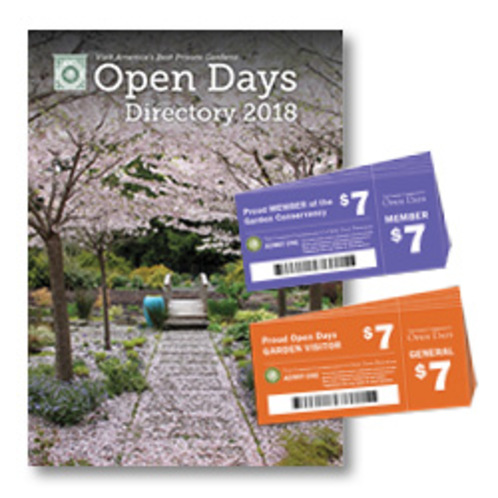 Order Books & Tickets!
This event has already passed
Did you attend?
The Garden Conservancy would love to hear what you thought about the event.
Share Your Feedback