Sat, Jul 14, 2018

10:00 AM
-
4:00 PM
We are proud to partner with the Hardy Plant Society of Oregon for this Open Day. Additional gardens have been added to this date after publication of the 2018 Open Days Directory; see their listings below.
Admission to each garden is $7 or purchase a $30 day pass to see all private gardens, on site during the Open Day, or at the following local businesses in Portland:
Garden Fever! 3433 NE 24th
thicket outdoor living, 4933 NE 23rd
Portland Nursery, 5050 Stark Street
Portland Nursery, 9000 Division
Digging Deeper programs - free with purchased day pass:
Anna's Garden, 5606 North Campbell Avenue, Portland. 10 a.m. – 4 p.m.
Book-Signing and Plant-Propagation Demonstrations
Timber Press authors Amy Campion and Paul Bonine will be signing their new book Gardening in the Pacific Northwest. Throughout the day, there will also be mini-classes on plant propagation and how to start plants from cuttings.
Eastman-Griffin Garden, 4120 North Michigan Avenue, Portland. 10 a.m. – 4 p.m.
Book-Signing
Timber Press author Donald Olson will be signing his award-winning book The Pacific Northwest Garden Tour: The 60 Best Gardens to Visit in Oregon, Washington and British Columbia as well as his new book The California Garden Tour: The 50 Best Gardens to Visit in the Golden State.

Garden Fever! 3433 NE 24th Avenue, Portland. 11 a.m., 1 p.m. and 3 p.m.
Seminars: Succulents
Experts from the garden center will be giving brief classes on using water-wise plants throughout your garden and home, particularly focusing on succulents in containers for inside and out.
Thicket Garden Shop, 4933 NE 23rd Avenue, Portland. 10 a.m., 12 p.m. and 2 p.m.
Seminars: Pollinators
Come learn about the importance of pollinators. Experts will cover favorite pollinator plants, as well as tips for creating habitat for bees and other beneficial insects.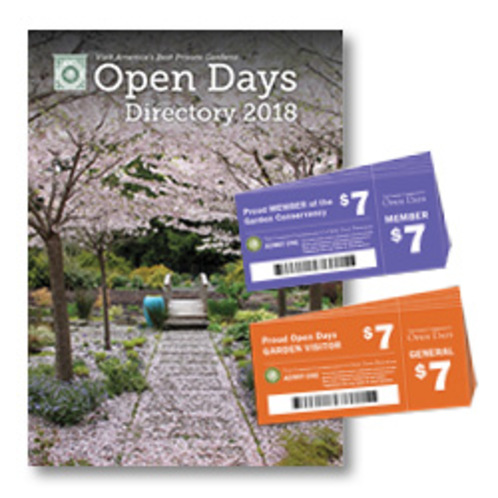 Order Books & Tickets!
This event has already passed
Did you attend?
The Garden Conservancy would love to hear what you thought about the event.
Share Your Feedback