Middlesex County, MA Open Day
Gardens at Clock Barn—Home of Maureen and Mike Ruettgers
Sat, Sep 9

10:00 AM
-
4:00 PM
The Gardens at Clock Barn have been created by the Ruettgers over the last thirty years. The house and drying barn date back to 1790. As you enter the gardens through an arched gate, you walk by the old barn which has trays filled with herbs and flowers from the cutting garden beyond. These trays were built in the late 1930s as a Works Progress Administration project for the drying of digitalis leaves for medicinal use. A grape arbor leads into a walled garden with four quadrants anchored by antique roses and mixed borders with sweeps of foxgloves, Salvia viridis, and nepeta intertwined with salad greens and edible herbs. A second tier is flanked by two reflecting pools fringed by Allium senescens montanum and an herbal tapestry design mirrored on each side. A greenhouse and potting area houses a collection of more than forty varieties of scented geraniums on one side and pots of kaffir limes, Meyer lemons, figs, bay, and rosemary on the other. Exiting the glass house, a canopy of 100-year-old oaks provides shade for paths that wind through a series of woodland gardens and past a small pond and water feature bordered by hakonechloa. Hosta divisions from the garden of Francis Williams anchor the first shade garden. Favorite plantings in these gardens include anemones, epimediums, Kirengeshoma palmata, Jeffersonia dubia, and shade-loving peonies. The path widens as you exit the gardens through a hornbeam arch to finish the tour below the face of The Clock Barn.
Farm-to-table box lunches from the acclaimed local café and brewery, Saltbox Kitchen, will be available to Open Days guests via pre-order for $18.
*Lunch orders have now ended, please call the Open Days Program at 845-424-6502 with questions.
Directions: From Boston, take Route 24 south to Exit 14A and merge onto I-495 South. Take Exit 7A for Route 24 North toward Boston. Merge onto Route 24 North and go about 18 miles. Take Exit 21B to merge onto I-93 South toward I-95. Continue on I-95 North for 21 miles. Take Exit 31B for Route 4 North/Route 225 West. Merge onto Bedford Street/Route 225/Route 4 and continue to follow Route 225/Route 4 for 2.8 miles. Turn left at Carlisle Road/Route 225. Turn right to stay on Carlisle Road/Route 225 and follow to destination on right.
Open Days 2017: September 9.
Hours: 10 a.m. to 4 p.m.
Admission to this garden is $7 for members and nonmembers without tickets purchased in advance.
Buy discounted admission tickets in advance! They never expire and can be used at most Open Days to make garden visiting easier.
Nonmembers get 6 visits for the price of 5 with advanced ticket book purchase.
Members get 50% off ONLY by purchasing ticket books in advance.
Family Time! Garden to Table—A Family Celebration at Clock Barn; throughout the day
Passionate gardeners Maureen and Mike Ruettgers invite visitors of all ages to share a day of adventure and inspiration in their extraordinary Gardens at Clock Barn. From a stylish design full of choice plants, to an inventive children's garden—a veritable wonderland designed to ignite curiosity and elicit delight in young gardeners, from toddlers on up—there are delights to discover for everyone. These will include edible treats (plus recipes) from the garden for all to share. Activities for families will abound throughout the day, from a scavenger hunt to investigating how root crops grow, plus a pizza garden, pumpkin patch, fairy garden and tee pee to explore. Maureen and Mike's daughter, Abigail Flanagan, will have a carefully curated array of cookbooks written with kids in mind for sale from her online shop, Farm & Fable.
Cooking demonstrations to be held at 11 a.m. & 1 p.m.
This year, the Ruettgers' special guest is Ben Elliott, the acclaimed chef and family farmer who brings the farm-to-table ethos to life with Concord's Saltbox Farm, the Little House Cooking School, and Saltbox Kitchen. Ben and his family live on the farm started by his grandparents (his young son runs their farm stand), so he knows the joy of growing and preparing food with loved ones. Families and foodies alike will interact with Chef Ben while he demonstrates preparation of one of his signature, seasonal dishes, using fresh ingredients from Saltbox Farm, and hosts a Q&A session afterwards.

Garden admission is $7 per person and children 12 & under are free. There is no additional fee for the Family Time program.

Save
Save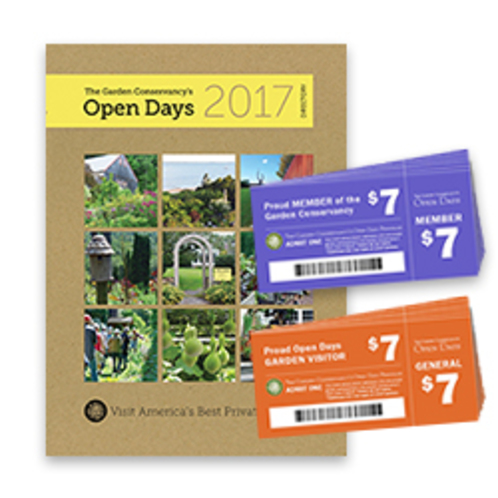 Order Books & Tickets!
This event has already passed
Did you attend?
The Garden Conservancy would love to hear what you thought about the event.
Share Your Feedback