Litchfield County, CT Open Day
Maywood Gardens
Sat, Aug 26

10:00 AM
-
4:00 PM
This private estate features a sunken perennial garden protected by ten-foot stone walls, a gazebo garden planted with butterfly- and hummingbird-attracting flowers and shrubs, a rose garden arranged in a French pattern design surrounded by a circle of hemlocks, a woodland path populated by mature beech and cherry trees as well as viburnum and rhododendrons, a ledge garden on an exposed hillside, a heather bed, white garden, herb garden, ornamental kitchen garden, and 4,000-square-foot greenhouse.
Directions: From I-84, take Exit 9 and go north on Route 25 towards Brookfield Village. Turn right onto Route 133 East towards Bridgewater. Route 133 has a detour as you come in from the South (Brookfield) into Bridgewater. Cross the Lake Lillinonah Bridge, then at the road block turn left on to Northrup Street. Follow until the first road on the right which is Stuart Road West. Go to stop sign and cross Route 133 onto Stuart Road East; follow to end. At stop sign (sort of a 3-way intersection with two stop signs) go straight / bear right onto Hut Hill Road. Take the first right onto Skyline Ridge Road; then take the third right on to Cooper Road. Welcome to Maywood, parking is 0.25 mile down on the right.
If coming from the north, take Route 133 south from the center of Bridgewater, then turn left onto Beach Hill Road West. Follow to the end and turn right onto Skyline Ridge Road. Take the first right onto Cooper Road.
Open Days 2017: August 26
Hours: 10 a.m. to 4 p.m.
Admission to this garden is $7 for members and nonmembers without tickets purchased in advance.
Buy discounted admission tickets in advance! They never expire and can be used at most Open Days to make garden visiting easier.
Nonmembers get 6 visits for the price of 5 with advanced ticket book purchase.
Members get 50% off ONLY by purchasing ticket books in advance.
Digging Deeper! "Maywood Wines: Vineyard Tour, Winemaking Demonstration & Wine Tasting," at 1:30 p.m. with Greg Bollard and Dave Lambert. Registration details here.
Save
Save
Save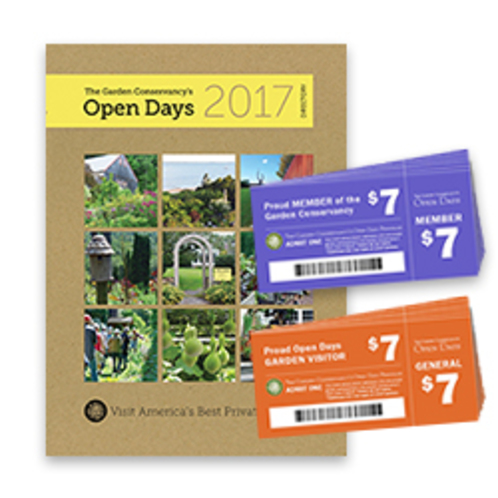 Order Books & Tickets!
This event has already passed
Did you attend?
The Garden Conservancy would love to hear what you thought about the event.
Share Your Feedback