Greater Boston Area, MA Open Day
Sun, Jun 11

10:00 AM
-
4:00 PM
We are proud to partner with the Mary M.B. Wakefield Estate to bring you this Open Day. Each June, the Wakefield Estate welcomes visitors to celebrate the annual blooming of hundreds of Polly Wakefield's kousa dogwood trees during "Dogwood Days". As host garden, the Wakefield Estate has helped us line up several remarkable gardens, some with historical pedigrees and others representing remarkable accomplishments of local gardeners and landscape designers.
Begin your day at the Wakefield Estate, purchase a discounted day pass ($30 for all five gardens), pick up a map and head out to see some or all of these great and inspiring gardens. A guided tour of the Wakefield Estate will be offered at 1:00 p.m., rain or shine.
*Please note: the Dustman-Ryan garden in West Roxbury, MA has been added to this date after publication of the 2017 Open Days Directory; see the listing below.
Expert in the Garden! with Judith Tankard at The Former "Mrs. Holden McGinley Garden" designed by Ellen Biddle Shipman, Milton, MA, 11 a.m. and 1 p.m. Judith B. Tankard will talk about the importance of this historic garden and its famous designer, Ellen Shipman. Designed in the 1920s as a series of stunning outdoor rooms, it was embellished with Shipman's signature water features, garden ornament, and flower borders. The Massachusetts Horticultural Society commended it for its "great charm and restraint." Judith is a landscape historian and author of books on Shipman and other landscape architects. She is a Garden Conservancy Fellow and an Open Days host on Martha's Vineyard.
Admission to each garden is $7. Don't forget to buy discounted admission tickets in advance. They never expire and can be used at most Open Days to make garden visiting easier.
Save
Save
Save
Save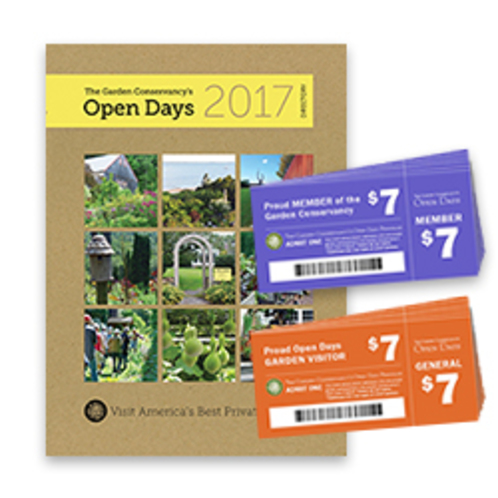 Order Books & Tickets!
This event has already passed
Did you attend?
The Garden Conservancy would love to hear what you thought about the event.
Share Your Feedback