Family Time! Garden to Table—A Family Celebration at Clock Barn
Gardens at Clock Barn—Home of Maureen and Mike Ruettgers
Sat, Sep 9

10:00 AM
-
4:00 PM
Family Time! Garden to Table—A Family Celebration at Clock Barn
Cooking demonstrations to be held at 11 a.m. & 1 p.m.
Passionate gardeners Maureen and Mike Ruettgers invite visitors of all ages to share a day of adventure and inspiration in their extraordinary Gardens at Clock Barn. From a stylish design full of choice plants, to an inventive children's garden—a veritable wonderland designed to ignite curiosity and elicit delight in young gardeners, from toddlers on up—there are delights to discover for everyone. These will include edible treats (plus recipes) from the garden for all to share. Activities for families will abound throughout the day, from a scavenger hunt to investigating how root crops grow, plus a pizza garden, pumpkin patch, fairy garden and tee pee to explore. Maureen and Mike's daughter, Abigail Flanagan, will have a carefully curated array of cookbooks written with kids in mind for sale from her online shop, Farm & Fable.
This year, the Ruettgers' special guest is Ben Elliott, the acclaimed chef and family farmer who brings the farm-to-table ethos to life with Concord's Saltbox Farm, the Little House Cooking School, and Saltbox Kitchen. Ben and his family live on the farm started by his grandparents (his young son runs their farm stand), so he knows the joy of growing and preparing food with loved ones. Families and foodies alike will interact with Chef Ben while he demonstrates preparation of one of his signature, seasonal dishes, using fresh ingredients from Saltbox Farm, and hosts a Q&A session afterwards.

The Gardens at Clock Barn are open to the general Open Days visitors on this date from 10 a.m. to 4 p.m. Garden admission is $7 per person and children 12 & under are free. There is no additional fee for the Family Time program.
Save
Save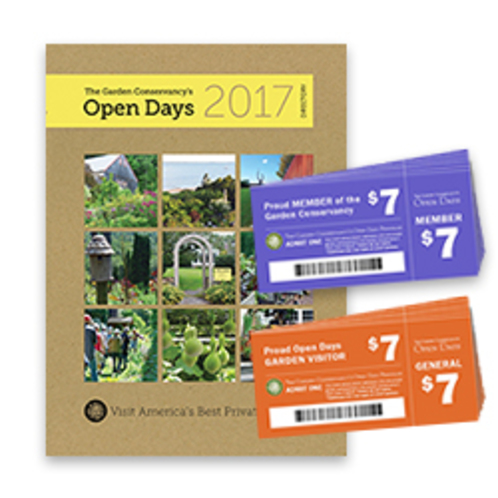 Order Books & Tickets!
This event has already passed
Did you attend?
The Garden Conservancy would love to hear what you thought about the event.
Share Your Feedback