Fairfield County, CT Open Day
Sun, Sep 9, 2018

10:00 AM
-
4:00 PM
*There are additional gardens open in nearby Putnam and Westchester Counties, NY on this date; see their listings below. Hours vary.
Admission to each garden is $7 for members and nonmembers without tickets purchased in advance.
Buy discounted admission tickets in advance! They can be used at most Open Days to make garden visiting easier.
Nonmembers get 6 visits for the price of 5 with advanced ticket book purchase.
Members get 50% off ONLY by purchasing ticket books in advance.
Digging Deeper program at the Harris Garden in Wilton: Art and Science in the Garden with landscape designer Laura Tuttle Stabell; 3 p.m. Free with garden admission.
Underlying the painterly palette of flowering plants and the grading and sculpting of the earth, lies the mechanics of horticulture and the secrets of garden science. This garden, built on a ledge with sloping terrain, presented many challenges that were solved by focusing on both the art and the science of gardening. Aspects of the garden—fragrance, color, style—all have a science to them which can be used to create sensual experiences. Other sciences can be used to create a sense of place, lead you, stop you, or help create rooms. See your garden as you never have before and learn how to use science to make a better garden.
There is no additional fee for this program and no registration is required.
The Harris Garden

It began as a flower garden in 1994. Initially every plant was chosen because it made a good cut flower or had great foliage or a beguiling scent—preferably all three!

Garden of Bernard Marquez & Tim Fish

The garden consists of several garden rooms on different elevations. There are a considerable variety of boxwoods and other broadleaf evergreens, most notably mountain laurel...

Eastward

We began the gardens at Eastward in 2000, after the land was cleared and excavating for the driveway, buildings, and paddocks was finished. The topsoil was very scanty and poor...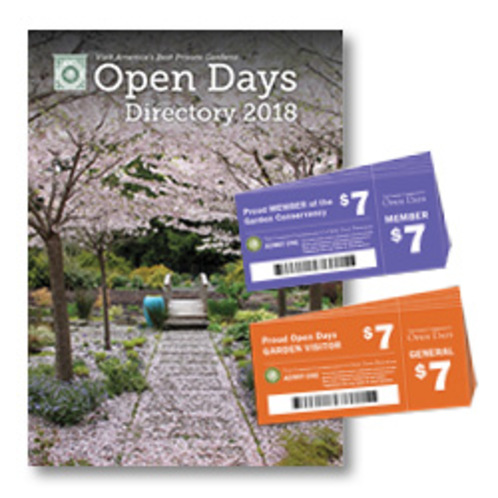 Order Books & Tickets!
This event has already passed
Did you attend?
The Garden Conservancy would love to hear what you thought about the event.
Share Your Feedback