Essex County, NJ Open Day
Claire Ciliotta
Sat, Jun 16, 2018

10:00 AM
-
4:00 PM
Welcome to my garden! There are lots of lovely changes that I've made in the last two years! The front garden now has a nice curving path and new broad steps to the house. You will get to see what I've done with the plantings! Then, follow the brick path around the side of the house and look for the climbing roses, Baptisia, smoke bushes, and a Japanese maple. Open the new gate to a meditation garden—watch the birds at the feeder, notice the Mayan rock wall with its spirit windows surrounding a moon-shaped pond. Enjoy the mounds of Hakonechloa, and the clump bamboo, but don't miss the tree bench with the tree's newly made clay animal totems surrounded by hydrangeas, roses, and hellebores. Follow the path to the Balinese platform floating in a sea of ferns and daylilies. Take a moment to enjoy the privacy, then walk back to the new deck with its wonderful steel-wire railing. Come up and see the garden from this vantage point! Welcome to my garden! Iced tea will be served!
Directions: From the Garden State Parkway, take Exit 151/Watchung Avenue. Turn right if you are coming from the north, left if from the south. Continue five traffic lights or so on Watchung Avenue. The last traffic light will be North Fullerton. Go through traffic light and make the next right (Valero gas station on corner) onto Park Street. Number 279 Park is about ten houses on right.
From Route 3, take Grove Street Exit, turn left onto Grove Street. Continue past the cemetery. Turn right (only way possible) at the traffic light at end of cemetery. Go half-way up hill, turn left onto Park Street, continue about 1.5 miles to #279 (right past Gordonhurst intersection). The garden is on the left.
Open Days 2018: June 16
Hours: 10 a.m. to 4 p.m.
Admission to this garden is $7 for members and nonmembers without tickets purchased in advance.
Buy discounted admission tickets in advance! They can be used at most Open Days to make garden visiting easier.
Nonmembers get 6 visits for the price of 5 with advanced ticket book purchase.
Members get 50% off ONLY by purchasing ticket books in advance.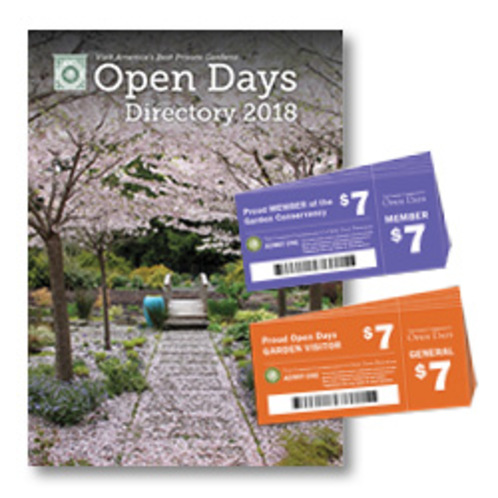 Order Books & Tickets!
This event has already passed
Did you attend?
The Garden Conservancy would love to hear what you thought about the event.
Share Your Feedback