Essex County, NJ Open Day
Mountsier Garden
Sun, Apr 15, 2018

10:00 AM
-
4:00 PM
I love my garden! Do come in spring to see it bursting forth and enjoy it with me! It is the best time to see the strong bones of the garden and the bright colors of thousands of spring bulbs illuminating it! Then from my garden it is one-and-one-half miles to the largest display of flowering cherries in the United States—so you can really feast on the glory of spring from here. Return again on September 8, and see the garden in full flush. Over the last twenty-two years, Richard Hartlage, the talented garden designer, has designed my garden. Garden clubs and other groups are welcome for a guided tour by appointment, making contributions to the Open Days program. Contact: graemehard@aol.com.
Directions: From the Lincoln Tunnel or Exit 16, from I-95/New Jersey Turnpike, go west on Route 3. From Garden State Parkway, go east on Route 3. From both directions, go to Main Avenue/Nutley/Passaic exit. At end of exit ramp, turn left and go through two traffic lights (three lights if coming from west). After this light, go straight ahead. Rutgers Place is fourth street on left. Come up Rutgers Place to top of hill; when road flattens, #205 is on right.
Open Days 2018: April 15; September 8
Hours: 10 a.m. to 4 p.m.
Admission to this garden is $7 for members and nonmembers without tickets purchased in advance.
Buy discounted admission tickets in advance! They can be used at most Open Days to make garden visiting easier.
Nonmembers get 6 visits for the price of 5 ONLY with advance ticket book purchase.
Members get 50% off ONLY by purchasing ticket books in advance.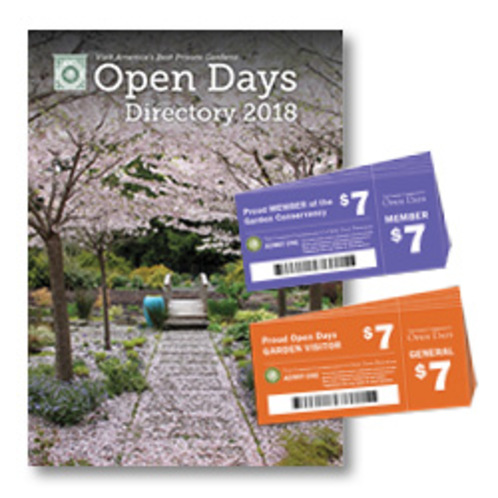 Order Books & Tickets!
Sign up for email reminders
This event has already passed
Did you attend?
The Garden Conservancy would love to hear what you thought about the event.
Share Your Feedback