Dutchess County, NY Open Day
Sat, Sep 23

10:00 AM
-
4:00 PM
We are proud to partner with Innisfree Garden in Millbrook to bring you this Open Day; see their listing below. Special events on this date at Innisfree include:


● Family Time! Small Wonders: Storytelling and an Imaginative Garden Scavenger Hunt at 1 p.m., 2 p.m., and 3 p.m. at Innisfree Garden in Millbrook. Storytelling sessions for ages 5 and up. Let your imagination guide you through Innisfree Garden, a space of wonder and inspiration for visitors of all ages. Begin your exploration by listening to award-winning Storyteller Lorraine Hartin-Gelardi share original and traditional tales about the marvels of nature and its enchantments. Afterwards, stroll through the garden with clues from the stories and a map that will help you discover nature's treasures within the garden.
● Landscape Curator Kate Kerin will lead a behind the scenes tour, "Innisfree: A Partnership with Nature," focusing on the less visible elements of genius in the garden; 11 a.m. Tickets for the curator-led tour, available on site just before the tour, are $10 for Innisfree and Garden Conservancy members, $15 for the general public.
● Plant sale with Mark Oppenheimer's Inner Garden, 2 p.m. to 5 p.m.; innergarden@aol.com or 845-677-0484.
*Admission to Innisfree is $8 per person.
Admission to each private garden is $7 for members and nonmembers without tickets purchased in advance.
Buy discounted admission tickets in advance! They never expire and can be used at most Open Days to make garden visiting easier.
Nonmembers get 6 visits for the price of 5 with advanced ticket book purchase.
Members get 50% off ONLY by purchasing ticket books in advance.
Save
Save
Save
Save
Save
Save
Save
Save
Save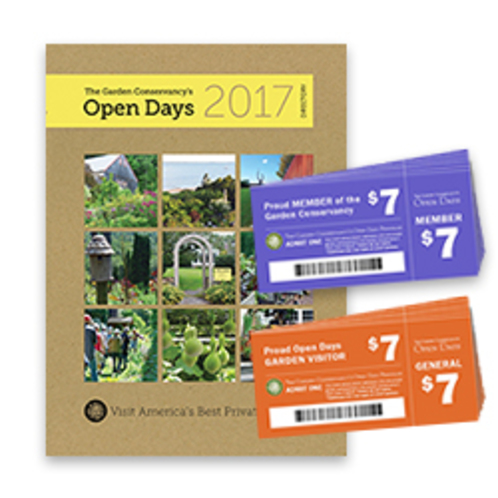 Order Books & Tickets!
This event has already passed
Did you attend?
The Garden Conservancy would love to hear what you thought about the event.
Share Your Feedback