Dutchess County, NY Open Day
Sat, Jul 7, 2018

10:00 AM
-
4:00 PM
*The garden of Belinda & Stephen Kaye in Millbrook has been added to this date after publication of the 2018 Open Days Directory; see their listing below.
Admission to each garden is $7 for members and nonmembers without tickets purchased in advance.
Buy discounted admission tickets in advance! They can be used at most Open Days to make garden visiting easier.
Nonmembers get 6 visits for the price of 5 with advanced ticket book purchase.
Members get 50% off ONLY by purchasing ticket books in advance.
Barbara Agren's Smithfield Cottage

Barbara's garden, atop the beautiful Smithfield Valley in the heart of the Millbrook Hunt Country, is exhibited in vibrant colors in her perennial landscape around her cottage...

Jade Hill—Paul Arcario & Don Walker

Starting as a rocky hillside that was mostly lawn, Jade Hill has grown into a stroll garden designed to be a tapestry of texture and color...

Belinda & Stephen Kaye

Recently we were able to purchase adjacent property with a pond we'd overlooked for 45 years. Dredging the pond of 100 years of silt was the first improvement...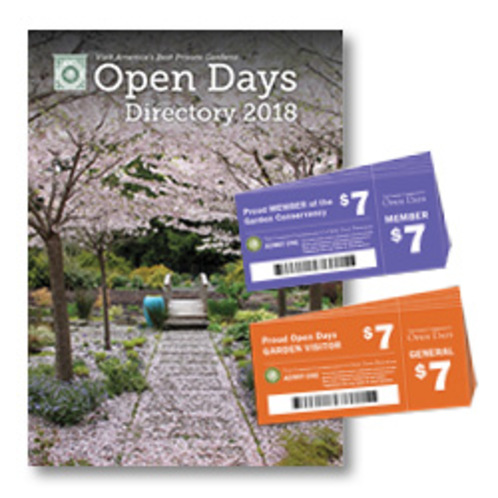 Order Books & Tickets!
This event has already passed
Did you attend?
The Garden Conservancy would love to hear what you thought about the event.
Share Your Feedback