Digging Deeper: The Garden in Every Sense and Season—A Bootcamp for the Senses
Sat, Apr 28, 2018

11:00 AM
Your garden could be so fulfilling—if you plug in. Created to coincide with the publication of Tovah Martin's new book, The Garden in Every Sense and Season, this lecture explores the garden on all levels by attuning your nose to the scents and training your ears to listen. Learn to garden with eyes wide open, ears to the ground, and hands outstretched. Tailored to the current season to make each presentation dynamic, this lecture will lead your group through an odyssey of exploration to awaken the senses and arouse your abilities of perception on all levels. Sharing advice and ideas to deeply enhance the gardening experience while also incorporating a "Smellathon" to help get nostrils in gear, this lecture is beautiful and fun as well as highly practical. Want to broaden your horizons? After this presentation, your garden will be more savory, you will know its touch, smell its aromas, hear its voice, and see it anew.
Registration is required and space is limited.
Location
Cary Institute of Ecosystem Studies
Auditorium
2801 Sharon Turnpike/Route 44
Millbrook, NY 12545
Date and time
Saturday, April 28, 2018
11 a.m.
Registrations will be taken at the door, cash or check only.
$30 Members of the Garden Conservancy, Innisfree Garden, or the Cary Institute
$35 Non-members
For more information, call the Garden Conservancy's Open Days toll-free weekdays, 9 a.m. to 5 p.m. EST, 1-888-842-2442, or via email at opendays@gardenconservancy.org.
*Please note: Merritt Bookstore in Millbrook will be selling Tovah's brand new book before and after her talk on April 28, and Tovah will be signing copies afterwards.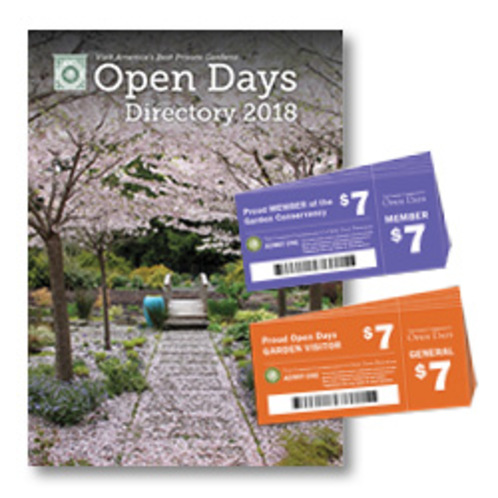 Order Books & Tickets!
This event has already passed
Did you attend?
The Garden Conservancy would love to hear what you thought about the event.
Share Your Feedback