Digging Deeper: Kelton House Farm—Celebrating the American Colonial Spirit in House and Garden
Kelton House Farm
Sun, Jul 16

1:00 PM
-
5:00 PM
Spend an afternoon at Kelton House Farm, touring with the owner, a noted collector of seventeenth and early eighteenth-century American furniture and decorative arts, exploring the cutting, perennial and vegetable gardens, walking the meadows, and enjoying an English tea. Kelton House Farm is intended to evoke a sense of place that celebrates the Colonial period of American history. The early eighteenth-century saltbox house (moved from New England) is set in the context of a rural American farmstead. Gardens of historic design feature pre-1750 heirloom varieties of flowers, herbs, fruits, and vegetables, surrounded by a pastoral landscape. Antique garden ornament from England and New England punctuate the gardens.

Kelton House Farm will be open from 1 p.m. to 5 p.m. for pre-registered guests who will arrive via horse and carriage. Tickets are for a specific tour with the garden owner, 1:30 p.m. or 3:30 p.m. At 2:30 p.m., an English tea will be served in the Potting Shed. The tea will feature jams, jellies and preserves made with fruits, flowers and herbs from the garden, as well as honey from the farm's hives.
(Please note that the Potting Shed is open-sided and this event will be held rain or shine.)
Registration is required and space is limited.

Location:
Fredonia, WI
Address will only be sent to ticket holders
Date and time
Sunday, July 16, 2017
1 p.m. to 5 p.m.
Registration:
1:30 Tour
This timeslot is sold out.
3:30 Tour
Limited spots available for this time slot, please call us at the number below to register.
For more information, call the Garden Conservancy's Open Days toll-free weekdays, 9 a.m. to 5 p.m. EST, 1-888-842-2442, or via email at opendays@gardenconservancy.org.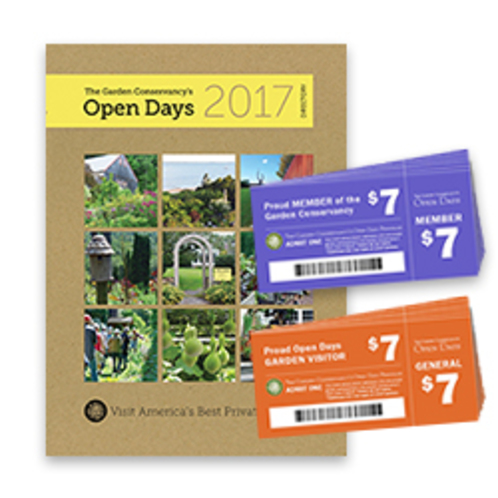 Order Books & Tickets!
This event has already passed
Did you attend?
The Garden Conservancy would love to hear what you thought about the event.
Share Your Feedback