Digging Deeper: I Plant, Therefore, I Am—Stories from a Connecticut Kitchen Garden
Sat, Mar 24, 2018

2:00 PM
At her private "Ho Hum Hollow Farm," Pamela Page maintains a 10,000 square foot kitchen garden where she grows almost 200 different kinds of fruits and vegetables, everything from the usual farmer's market produce to rare or heirloom varieties such as Chinese watermelon radish, purple carrots, multi-colored cucumbers, white beets, and black tomatoes. In more than 300 images, Pamela takes us through the evolution of her kitchen garden, from early inspirations to the challenges and rewards of growing your own. Her garden has been open through the Garden Conservancy Open Days and featured in Country Living magazine as well as Connecticut Cottages & Gardens. Pamela also helps clients around the globe, from New England to Tuscany, Panama, and the Bahamas, achieve the same dream of creating and maintaining a flower and vegetable garden. As part of her educational outreach activities, Pamela designed and built a kitchen garden at Glynwood Center, a historic 225-acre demonstration farm dedicated to rural conservation located in Cold Spring, New York, where she also oversaw their kitchen gardening apprentice program. Pamela frequently lectures on how to create a kitchen garden, whether on a rooftop, in a window box, or a suburban back yard.
Before and after Pamela Page's lecture, representatives from Turtle Tree Seed will offer some of their favorite varieties of seed for sale. Based in nearby Copake, New York, Turtle Tree Seed offers a wide selection of certified organic and biodynamic, 100% open-pollinated seeds. Pioneers in seed transparency, Turtle Tree grows, selects, cleans, and packages most of their seeds right in Camphill Village, a 615-acre Columbia County site where adults with developmental disabilities live and work alongside other members of a multi-generational community. The remainder of Turtle Tree's seeds come from other biodynamic farmers. For more information, visit www.turtletreeseed.org.
Registration will be taken at the door, cash or check only.
Location
Cary Institute of Ecosystem Studies
Auditorium
2801 Sharon Turnpike/Route 44
Millbrook, NY 12545
Date and time
Saturday, March 24, 2018
2 p.m.
For more information, call the Garden Conservancy's Open Days toll-free weekdays, 9 a.m. to 5 p.m. EST, 1-888-842-2442, or via email at opendays@gardenconservancy.org.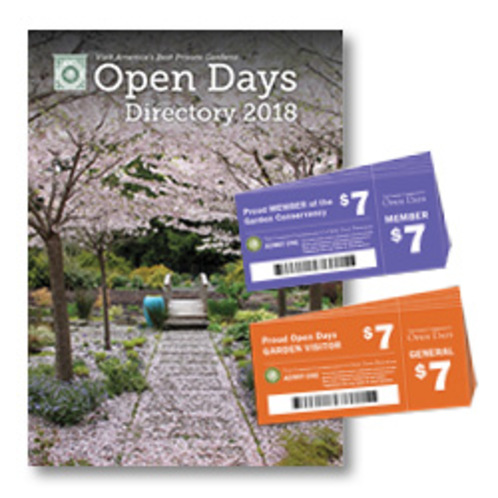 Order Books & Tickets!
This event has already passed
Did you attend?
The Garden Conservancy would love to hear what you thought about the event.
Share Your Feedback