Berkshire County, MA Open Day
Black Barn Farm
Sun, Jul 23

10:00 AM
-
4:00 PM
*There are additional gardens open in nearby Columbia County on this date.
After being greeted by a pair of fantastical topiary birds, guests pass by the East terrace entry with its collection of container plantings and espaliered Fuji apple. Proceeding past the collection of dwarf evergreens and through the doors of the first hedged room with its gazing-ball-capped topiary columns, stroll down the allée of Wyman crabs, (checking out the young hornbeams being trained into topiary on the right) through the Chinese red gates to the Pool Garden, where containers of tropicals decorate the neo-classical pavilion, with its collection of furniture inspired by branch coral. A new addition is the bronze fountain "Sculpture Andata, Sculpture Storna", a unique collaboration between Italian artists Enzo Cucchi and Sandro Cucchi. Leaving the pool you can stroll through a collection of large topiary in several stages of development. Look for the elephant, the ibis, a rhino, and more fantastic animals amongst the more traditional geometric topiary forms. As you head toward the rustic pergola and teahouse, surrounded by boxwood topiary large and small, take a peek into the woods at the Stumpery which features a collection of toxic and poisonous plants, our Garden of Discomfort is an homage to the end cycle of life. The Ornamental Hermit Hut is a new addition. The pergola leads into the main kitchen garden, enclosed by a mature beech hedge, which provides fruit and vegetables for the owners and friends. As you pass by the moss-covered garden shed don't miss the West Terrace ahead which features raised bluestone and steel beds planted with vegetables and herbs close to the kitchen. The garden encompasses a little more than three acres.
Directions: From Taconic State Parkway, take Chatham/East Chatham exit onto Route 295 east. Go about 15 minutes, crossing Route 22, and follow to end at Route 41. Turn left and go about 100 feet. Turn right onto Summit Road. Go about 1 mile to #937 on left, a white Greek Revival-style house with black barn behind.

From I-90/Massachusetts Turnpike west, take Exit 1/West Stockbridge. Turn right off exit, then left at intersection of Routes 102 & 41. Go through West Stockbridge and stay on Route 41 north, as Route 102 veers left at flashing yellow traffic light. Go about 5 miles to a sign for Route 295 on left. Pass Route 295 and go about 100 feet to Summit Road on right. Turn right and go about 1 mile, #937 is on left. Please park on mowed areas off road.
Open Days 2017: July 23
Hours: 10 a.m. to 4 p.m.
Admission to this garden is $7 for members and nonmembers without tickets purchased in advance.
Buy discounted admission tickets in advance! They never expire and can be used at most Open Days to make garden visiting easier.
Nonmembers get 6 visits for the price of 5 with advanced ticket book purchase.
Members get 50% off ONLY by purchasing ticket books in advance.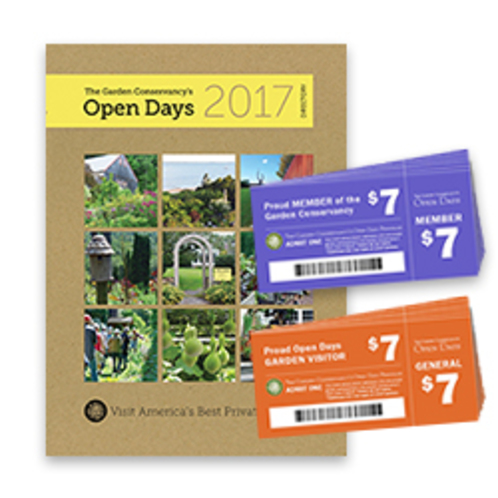 Order Books & Tickets!
This event has already passed
Did you attend?
The Garden Conservancy would love to hear what you thought about the event.
Share Your Feedback