Chicago's North Shore, IL Open Day
Sun, Jul 23

10:00 AM
-
4:00 PM

Experts in the Garden at Mettawa Manor, Mettawa, IL. Longtime Open Days hosts, Bill Kurtis and Donna LaPietra, invite guests of all ages to spend the day touring their extraordinary garden and enjoying many special activities.
Prairie Tours: Walk or join Bill on a club car ride to explore 20 acres of Midwest tall grass prairie in full bloom.
Terrace Tastings: Enjoy local, artisanal treats and learn more about green markets and environmentally conscious food choices.
Garden Selfies: A photographic and video exhibit of this garden through the seasons, plus pointers on better smart phone photos.
The Buzz: To bring back pollinators, Mettawa Manor has three bee hives which produce over 100 pounds of honey each year. A beekeeper will show how the hives work, and visitors can sample "Bill's Bees Mettawa Prairie Honey" (bee activities 1 p.m. to 2:30 p.m.).
Admission to this garden is $7 for members and nonmembers without tickets purchased in advance.
Buy discounted admission tickets in advance! They never expire and can be used at most Open Days to make garden visiting easier.
Nonmembers get 6 visits for the price of 5 with advanced ticket book purchase.
Members get 50% off ONLY by purchasing ticket books in advance.
Don't miss a visit to the Shakespeare Garden, a public garden in Evanston on this date; see their listing below.
Our Digging Deeper event "Garden Design and Horticulture at Camp Rosemary," in Lake Forest on this date is now SOLD OUT. Please call the Garden Conservancy Open Day's Program toll-free to add your name to the wait list: 1-888-842-2442.
Save
Save
Save
Save
Mettawa Manor

The house and grounds were built in 1927 as a family compound. Donna LaPietra and Bill Kurtis are only the second owners in the manor's rich history and have been working for the past twenty-three years to...

Shakespeare Garden

Shakespeare Garden is nestled in a quiet central section of Northwestern University, on Garrett Place, behind Howes Memorial Chapel, hidden from view by a double wall of hawthorn hedges...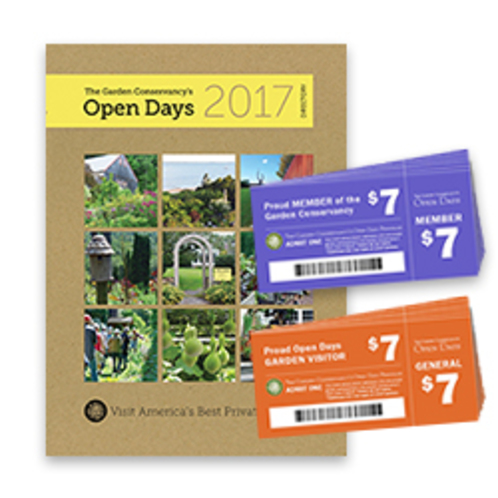 Order Books & Tickets!
This event has already passed
Did you attend?
The Garden Conservancy would love to hear what you thought about the event.
Share Your Feedback