Epsom, NH

Open Days
Mine is a garden in the dooryard of an eighteenth-century farmhouse. It is both country and casual. When I moved here twenty-nine years ago, there was a narrow border of Vinca minor (dwarf periwinkle, now covered by a widened porch), large clumps of orange daylilies (Hemerocallis), and an old grape arbor. None of these remain. I garden on glacial sandy moraine. Soil preparation is intensive. What I meant to be two or three borders is now an acre of gardens set around an eighteenth-century post-and-beam barn (thirty-five-feet by fifty-six-feet) and other period buildings. There are deep mixed borders, low dry-laid stone walls, a koi pond, a small woodland, and a small ornamental potager. I have tried not to lose sight of the fact that this is an informal country garden. The garden rooms are defined by sight lines rather than formal hedging.
Read more about this garden in a recent article in New Hampshire Home!
Directions: From I-93, take Exit 11. After you pass through the toll, turn left onto Hackett Hill Road. In 0.25 mile turn left again onto West River Road. In a little over 0.5 mile you will come to a traffic light. Turn right and go over the river. In o.5 mile you will come to a crossroad. Go straight up the hill to the traffic light. Turn left onto Route 3/Route 28. In about 2.5 miles at Sully's Market, stay on Route 28 to the right. Turn right onto Route 28/Pinewood Rd. Proceed an additional 3 miles on Route 28. On right you will see a large brown wooden sign for Bear Brook State Park. Turn right into the Park. Cross over Catamount pond and pass the Old Allentown Meetinghouse on the left. In 1.5 miles you will come to New Rye Road. The sign is on the right, the road is on the left. Turn left up the hill for 1 mile. On the right you will see a dark red center chimney colonial. From the Seacoast, take Route 4 to the Epsom Traffic Circle. Take the third exit, and turn left onto Route 28. Drive approximately 5.5 miles. Turn left into Bear Brook State park and proceed as directed above.
Open Days 2018: July 14 & 15
Hours: 10 a.m. to 5 p.m.
Admission to this garden is $7 for members and nonmembers without tickets purchased in advance.
Buy discounted admission tickets in advance! They can be used at most Open Days to make garden visiting easier.
Nonmembers get 6 visits for the price of 5 with advanced ticket book purchase.
Members get 50% off ONLY by purchasing ticket books in advance.
This garden allows photography
This garden is handicap-accessible
---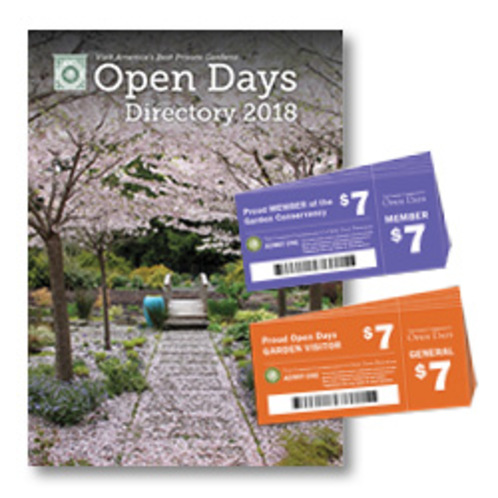 Order Books & Tickets!