Wilton, CT

Open Days, Digging Deeper, Open Days Special Program
It began as a flower garden in 1994. Initially every plant was chosen because it made a good cut flower or had great foliage or a beguiling scent—preferably all three! From the onset, the intention has been to convey a wild, exuberant abundance; annuals are inter-planted with perennials. Structural elements have been added to provide balance and suggest premeditation. Boxwoods and unusual trees play an important role. As the two-acre site was naturalized, the original concept was adapted to shaded and woodland areas.
Designer's notes: My name is Laura Tuttle Stabell. This garden has been twenty-two years in the making—since I first met Tom and Doreen Harris—so I'm excited to share the garden. The Harris home is modern and the garden follows to a degree. (I was working with Helene Verglas on designing Horsefeathers, a traditional Colonial garden, at the time, and some of her structural ideas filtered through.) It was designed to provide cut flowers as well—and also has a prairie vibe, with lots of grasses, and gets a little wild in places. A neighbor's field has been "borrowed" by planting grasses and keeping it open along that border. This garden is also about color, with much thought going into the ever-changing color schemes throughout the year. Watch out for the 'Tigers Eye' sumac jumping out at you along the path—with Spirea thunbergii 'Ogon', Hosta 'Sum and Substance,' and beds of Helictotrichon macra 'All Gold.' (Can you ever have too much chartreuse in the garden?) The garden is on top of a ledge—but has little water available for irrigation! Soils were either heavy or light subsoil. The first part of the garden was planted on post-construction, machine-compacted soils. Thanks to some very good soil from Bud Bulpitt—it began to grow. I'm as proud of the soil now as I am of the rest of the garden.
I am continuously improving the soil, and I carefully grade and contour the land to catch every drop of rainwater and prevent run-off. The garden, like most, has its peaks, but through careful observation and planning, it has become a four-season garden. As I write this in January, Helleborus are blooming through the snow. Soon, the Hamamelis x 'Arnold Promise' will be opening, wafting candy scent my way on the right breeze. The garden is carefully "layered"—so thereafter follows a full four months of spring bulb color. It starts with Galanthus nivalis and Scilla siberica running along the driveway. Tulips start with 'The First' and go on to Darwins, then end in a riot of big ball types of Alliums mingled with single late tulips, ('Francoise' this year in hopes to tone things down a bit). A long bed of Mertensia virginica, coaxed for years from seedlings, covers perennial geraniums that re-emerge from under their shriveling foliage. The bulb season ends with a bang as a huge Eremurus ruiter 'Cleopatra' springs forth and burns with smoldering orange amidst a bed of grasses.
Summer brings beds full of native plants, Echinacea purpurea cultivars, Phlox paniculata, and Coriopsis verticillata 'Zagreb,' mingled with Perovskia atriplixifolia. The bank behind the house is home to all types of golden composites: Rudbeckia laciniata 'Herbstsonne' and Heliopsis helianthiodes 'Summer Sun,' etc. A step-stone stair hosts a mixture of sedums and a river of Dianthus g. 'Baths Pink.' Fall in this garden is superb with all the beds of dahlias blooming with grasses and perennials, Aconitum arendsii, Physostegia 'Vivid,' Caryopteris x claydonensis, and Aster nova angliae. A wish came true this year when I finally found plants of Heliopsis salicifolia at a nursery. It went dead center in the bed, where it grew to eight feet, and promptly blew over in a thunderstorm. After I wrestled with it for the rest of the season—it finally bloomed and made up for all its trouble. It was so beautiful, in fact, that some of it even made its way into a big vase in the front hall! The perennial and grass seed heads are left up for winter interest.
The winter garden is highlighted by boxwood that is trimmed into interesting topiary forms by Tom. An assortment of specimen evergreens and weeping ornamentals spices up the backdrop of hedges of holly, Cryptomeria, arborvitae, and Andromeda. The woodland comes into its own then, with the many shapes, colors, and textures of evergreens set against the distant hills. Hidden among the native Juniperus virginiana grove is a Cunninghamia lanceolata 'Glauca'—beautiful but a terribly mean tree to prune! Details that add interest to the overall design act to slow you down to take a better look—or smell.
Fragrant plants are everywhere here, some with fragrant flowers, others with fragrant foliage—just another one of the details. One other detail is our annuals. There is an abundance of reseeding species that have been carefully cultivated (sometimes taking years to breed hardy survivors) to fill in the gaps—sometimes in unexpected places! From year to year, they will move, shifting positions so that the garden is never the same two years in a row. Other details—the micro, like texture and movement, and macro, like the creation of rooms within the garden and scenes within the rooms—lend contour to the slopes and create pathways and flow through the garden as it has expanded. Things are continuously tweaked. The garden is never completely "done" and, because of the difficult site, has a mind of its own about what should grow and where! At this age in the garden, the goal is to pull together the elements to unify without sacrificing interest, and to intensify the strengths that make this garden unique. The contrasts between elements—structured v. free-flowing, mass v. detail, contrasting color schemes—are what evoke the "modern" in what could otherwise be a traditional flower garden.
Directions: From Wilton Center Route 7 North: Turn left on Rt 33 north. Go approximately two and one half miles north. Turn right on Nod Hill Road (you will see Signal Hill Rd. on the left just before turn) Proceed to stop sign. Turn left continuing on Nod Hill Road for approximately 2.5 miles. You will see Charter Oak Drive on the left. Just past on the left turn on Hillbrook Road. The very next turn is Shagbark Place. Park on the cul de sac. The house is number 9.
From Danbury: Take Route 7 south to Branchville. Turn right on Rt 102 heading towards Ridgefield center. The second road on the left is Old Branchville Rd-turn left. At the top of the hill there is a 3 way stop. Turn left onto Nod Hill Rd proceed down Nod Hill Rd through next 3 stops;past the Weir Farm Historic Site. The last stop is Whipstick Road. Stay on Nod Hill for 1 mile more, You will see Millstone Rd on the right-continue around the corner on Nod Hill. The turn is the next right Hillbrook Road.The very next turn is Shagbark Place. Park on the cul de sac. The house is number 9.
Open Days 2018: September 9
Hours: 10 a.m. to 4 p.m.
Admission to this garden is $7 for members and nonmembers without tickets purchased in advance.
Buy discounted admission tickets in advance! They can be used at most Open Days to make garden visiting easier.
Nonmembers get 6 visits for the price of 5 with advanced ticket book purchase.
Members get 50% off ONLY by purchasing ticket books in advance.
Digging Deeper program: Art and Science in the Garden with landscape designer Laura Tuttle Stabell; 3 p.m. Free with garden admission.
Underlying the painterly palette of flowering plants and the grading and sculpting of the earth, lies the mechanics of horticulture and the secrets of garden science. This garden, built on a ledge with sloping terrain, presented many challenges that were solved by focusing on both the art and the science of gardening. Aspects of the garden—fragrance, color, style—all have a science to them which can be used to create sensual experiences. Other sciences can be used to create a sense of place, lead you, stop you, or help create rooms. See your garden as you never have before and learn how to use science to make a better garden.
There is no additional fee for this program and no registration is required.
Save
Save
Save
Save
Save
This garden allows photography
This garden is handicap-accessible
---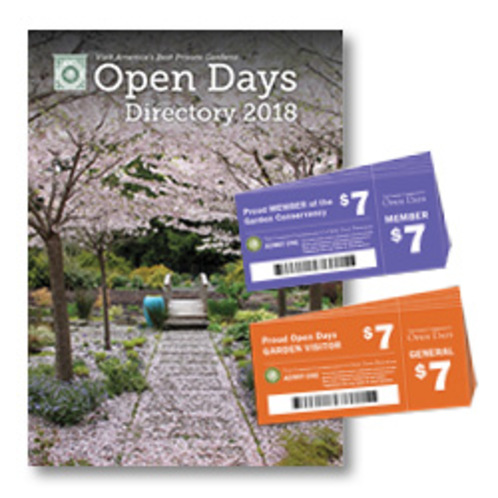 Order Books & Tickets!