Mendocino, CA

Open Days
The surrounding tree-studded state park and coastal headlands of the Pacific Ocean lend an isolated feeling to the Moss Garden. Set back from the strong breezes of the bluff's edge, the house provides a sheltered garden setting, while an ocean view beckons. The charming redwood residence, enhanced with Northern European details, inspired the garden's layout and many of its architectural elements. Aligned with the house, the sunken garden required substantial excavation to lower it beyond the reach of harsh winds, thus creating a suitable microclimate for an array of unexpected plants. The leftover soil became the main component in the construction of the rammed earth walls, which retain and partition garden rooms and impart a classic time-worn appeal. Leeward of the house, the protected orchard garden brims with blooms, conveying a blousy exuberance. In contrast, the heather garden features mounding forms in an exposed wind-contoured tapestry of texture and color.
Directions: About 1 mile north of the town of Mendocino, turn west off Highway 1 at entry point of Russian Gulch State Park and Point Cabrillo Drive. Continue directly west onto Brest Road. Go about 0.25 miles to a gate that reads "Moss, 45145". Proceed through the gate and park in the noted area.
Open Days 2018: June 23
Hours: 10 a.m. to 4 p.m.
Admission to this garden is $7 for members and nonmembers without tickets purchased in advance.
Buy discounted admission tickets in advance! They can be used at most Open Days to make garden visiting easier.
Nonmembers get 6 visits for the price of 5 with advanced ticket book purchase.
Members get 50% off ONLY by purchasing ticket books in advance.
This garden allows photography
This garden is handicap-accessible
---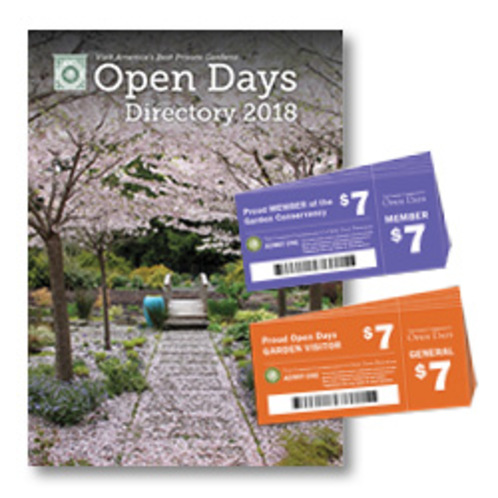 Order Books & Tickets!