Carversville, PA

Open Days
Millhouse consists of an eighteenth-century, beautifully restored grist mill on four and a half acres of gardens and wilderness. There is an abundance of stone walls throughout the property. The garden's style is natural and rustic with special emphasis on native plantings. There are also many specimen trees amongst the old and mature trees. There are five different border gardens, a woodland garden, a meadow, a dry creek bed border, a bog, and a formal garden.
Directions: Take Route 202 North to Aquetong Road. Turn right and remain on Aquetong for about 3 miles to the end. You will see the Carversville Inn directly in front of you. Bear right at the Inn onto Fleecydale Road and continue 1 mile.. The garden is on the right with a split rail fence across the driveway. There is only space for 6 cars so parking is LIMITED park on the road if driveway is full.
Open Days 2017: June 17
Hours: 10 a.m. to 4 p.m.
Admission to this garden is $7 for members and nonmembers without tickets purchased in advance.
Buy discounted admission tickets in advance! They never expire and can be used at most Open Days to make garden visiting easier.
Nonmembers get 6 visits for the price of 5 with advanced ticket book purchase.
Members get 50% off ONLY by purchasing ticket books in advance.
This is a new garden
This garden allows photography
This garden is handicap-accessible
---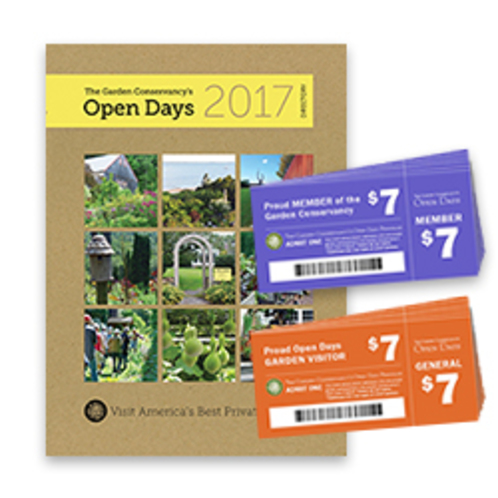 Order Books & Tickets!