Frederick, MD

Open Days
Drive up the tree-lined driveway along thirty mature kousa dogwoods blooming in beds of vinca, burning bush, barberries, hosta, and holly. Begin your tour by walking through the English garden featuring stone pathways with hedges of Korean boxwoods, barberry, and yews. This garden showcases our English Tudor-style house as well as the rest of the front plantings. Walk along the stone pathway past our prized monkey puzzle tree and other beautiful cedars. Continue past lots of summer flowers including coneflowers, fennel, dahlias, zinnias, and some late-blooming daffodils. Further down the pathway you will see a hedge of pink 'Knockout' roses with various summer plantings in front of them including many kinds of allium. Near the gate, note several large tulip poplar trees that are well over 100 years old. Wander down the steps across the Asian-style bridge to see hundreds of daylilies and other natural plantings. (Don't forget to look for the gargoyles and pagodas). Several of the kousa dogwoods are saplings from the ones along the driveway. Coming back up the steps you will see a bed of hellebores in various colors, a vegetable garden, and further along, a large bed of prized iris and David Austin roses. Just ahead is a Japanese garden complete with koi pond and a night blooming tropical lily. The in-ground pool is surrounded by beds of vinca minor, daylilies, oak-leaf hydrangea, hydrangea tree, lilac tree, yucca and in the backdrop are three ornamental crabapple trees. A row of hemlocks serve as a wind block. This twenty-eight-year-old two-acre garden was planted and maintained by the owners who say it is still a work in progress. Enjoy.
Directions: From Route 15, take the Rosemont Avenue exit. Go west for 4 miles past Fort Detrick. When you come to Yellow Springs turn left. It is directly across the street from the entrance to Yellow Springs Elementary School. We are the fourth house on the right. You may park on the front lawn.
Open Days 2017: June 10
Hours: 10 a.m. to 4 p.m.

Admission to this garden is $7. Don't forget to buy discounted admission tickets in advance. They never expire and can be used at most Open Days to make garden visiting easier.
This is a new garden
This garden allows photography
This garden is handicap-accessible
---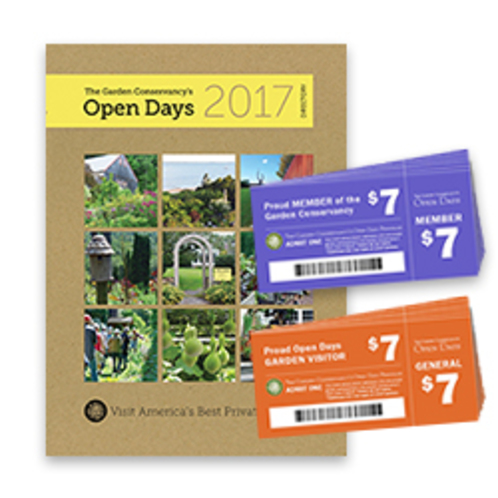 Order Books & Tickets!