Oakland, CA

Open Days, Organic, Edibles, Water feature, Xeriscape, Woodland
Enjoy panoramic views of the San Francisco Bay from the ample seating in this hillside garden. Walls, patios, and paths are built almost completely from recycled materials. Featuring an eclectic and unusual plant collection, the garden spaces—now growing in after eight years—include shade gardens under redwoods and cedars, a cactus and succulent hillside, a grape arbor patio with bay view, and a twelve-foot elephant topiary watching over a shady terrace bordered by tree ferns. There are hillside gardens with aloes, proteas, Epi cacti, orchids, bromeliads, carnivorous plants, fruit trees, and Australian plants, and fountains. It is home to hummingbirds, chickens, koi, and more.
Directions: In Oakland, take I-580 to the Keller Avenue exit. Go east (uphill) on Keller. When Keller ends at Skyline Boulevard, turn left onto Skyline which has a median strip at this point. Go 0.9 mile and make a U-turn at Hansom. Proceed to 13971 Skyline (blue house on bay side of street). Street parking is available and plentiful.

Open Days 2018: May 12
Hours: 10 a.m. to 4 p.m.
Admission to each private garden is $7 for members and nonmembers without tickets purchased in advance.
Buy discounted admission tickets in advance! They can be used at most Open Days to make garden visiting easier.
Nonmembers get 6 visits for the price of 5 with advanced ticket book purchase.
Members get 50% off ONLY by purchasing ticket books in advance.
This garden allows photography
This garden is handicap-accessible
---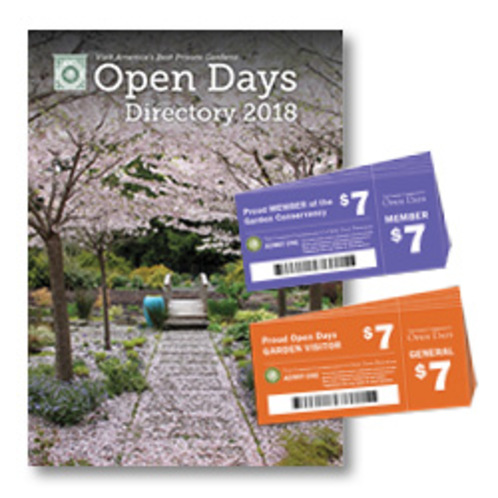 Order Books & Tickets!