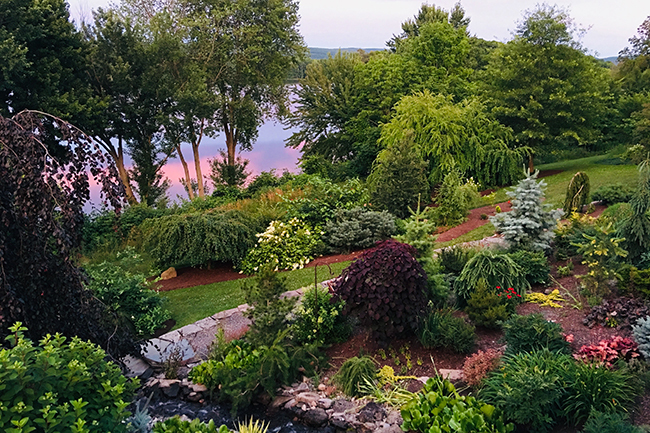 Tully, NY

Open Days, Water feature, Plant Collection, Terraced borders
The Kraft gardens are nestled in the Tully Hills overlooking one of the area's small Kettle Lakes. The topography was tamed with a series of terraces as gardens were developed to take advantage of the flat areas. Originally the gardens reflected the owner's love of collecting perennials but the landscape has evolved to reflect a passion for unique dwarf conifers and flowering shrubs. Features include a small stream with waterfalls, a woodland area, rock garden plants in tufa tumbles and troughs, pendulous conifers, striking perennial plant combinations, and a collection of various types of peonies. The Kraft Gardens welcome you with a serene feeling enhanced by the backdrop of beautiful Crooked Lake.
Directions: From Syracuse, take I-81 South toward Cortland/Binghamton. Take Exit 14 toward I-80/Tully. Go 0.16 miles and turn left onto State Route 11A. Go 0.06 miles to first right onto Route 80/NY-80. Go 1.24 miles and turn left onto Gatehouse Road. Go 0.63 miles and keep right at the fork to continue on Gatehouse Road. Go 0.30 miles and turn left onto Long Road. Go 0.24 miles to 374 Long Road on left. From Cortland, take I-81 North toward Syracuse. Take Exit 13 toward Preble. Go 0.20 miles and turn left onto Route 281. Go 0.66 miles to sharp right onto Song Lake Road/Route 104. Go 2.57 miles. Song Lake Road becomes Long Road at the county line. Go 0.90 mile to 374 Long Road on right.
Open Days 2019: September 15
Hours: 10 a.m. to 4 p.m.
Admission to this garden is $10 per person and children 12 and under are free.
Don't forget to buy discounted admission tickets in advance. They can be used at most Open Days to make garden visiting easier.
Nonmembers get 6 visits for the price of 5 with advanced ticket book purchase.
Members get 50% off ONLY by purchasing ticket books in advance.
This garden allows photography
This garden is handicap-accessible
---