Accord, NY

Open Days, Organic, Edibles, Water feature
Hollengold Farm is located in the Rondout Valley, which is nestled between the Shawangunk and Catskill mountains in the hamlet of Accord. We use organic practices to grow fresh vegetables, herbs, flowers, fruits, and honey. We currently market through our farm store, which is self-serve and full of reasonably priced delicious food; we also sell to local restaurants. Hollengold Farm was started in the spring of 2009 by a family originally from New York City. Since then, we have continued to grow our gardens and watch as our perennials take root. A natural swimming pool is a chlorine-free pool that uses the same principles as nature to filter out harmful microorganisms. This is how the system works: The pool has two distinct parts: the swimming area and a regeneration zone that features all types of plants that feed hydroponically on the water. Our pool is now four years old with water plants that have stabilized and a lovely swimming area. The pool has frogs, dragonflies, and lots of plants.
Directions: From Route 209 turn onto Mettacahonts Road, go over a bridge, up a hill, and turn right onto Lower Whitfield Road. Look for signs and park in our lot outside of the solar pavilion.
Open Days 2018: September 23
Hours: 10 a.m. to 4 p.m.
Admission to this garden is $7 for members and nonmembers without tickets purchased in advance.
Buy discounted admission tickets in advance! They can be used at most Open Days to make garden visiting easier.
Nonmembers get 6 visits for the price of 5 with advanced ticket book purchase.
Members get 50% off ONLY by purchasing ticket books in advance.
This is a new garden
This garden allows photography
This garden is handicap-accessible
---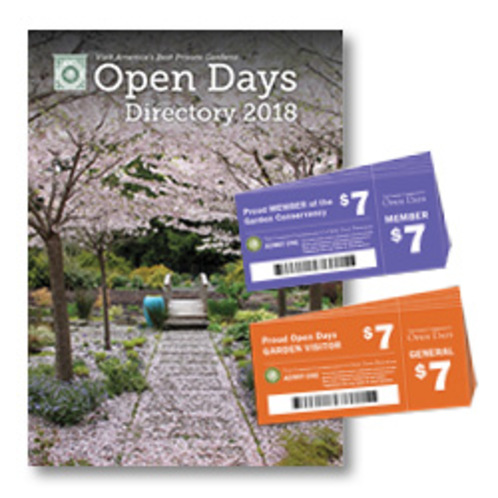 Order Books & Tickets!