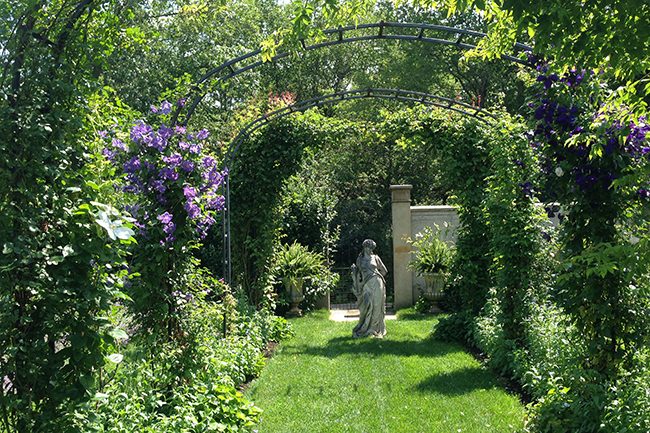 Washington, CT

Open Days, Edibles, Garden structures
Highmeadows sits on a hillside overlooking meadows, an apple orchard, rolling wooded hills, and fields with beautiful panoramic views of the Litchfield Hills. In the walled garden, the walls are covered with espaliered fruit trees, climbing roses, and hydrangeas. A lush rose arbor filled with pale pink and white roses interwoven with Clematis separates the formal garden and the potager. Boxwood hedges define the white formal garden. The geometric beds of the potager overflow with vegetables, herbs, and flowers. A woodland garden has evolved from a section of woodland trail winding through the property. Original trees and shrubs have been enriched with additional plantings of dogwoods, azaleas, Helleborus, ferns, spring-flowering bulbs, and woodland flowers. The courtyard garden, covered in pink and red roses mingled with Clematis and edged with lavender, leads to a hidden pine grove and artist's studio. The studio looks out to an old granite rock formation converted into a waterfall. A small pond is surrounded with moss, ferns, and woodland plants.
Directions: At the request of the Garden Host, directions to this garden are provided at additional gardens open on this date, or by calling the Garden Conservancy office toll-free weekdays, 9 a.m. to 5 p.m. EST, 1-888-842-2442.
Open Days 2019: June 16
Hours: 10 a.m. to 4 p.m.
Admission to this garden is $10 per person and children 12 and under are free.
Don't forget to buy discounted admission tickets in advance. They can be used at most Open Days to make garden visiting easier.
Nonmembers get 6 visits for the price of 5 with advanced ticket book purchase.
Members get 50% off ONLY by purchasing ticket books in advance.
This garden allows photography
---