Garden of Shobha Vanchiswar & Murali Mani
Chappaqua, NY

Open Days
This modest-sized organically maintained garden won the 2007 Golden Trowel award from Garden Design magazine. It features a cottage garden of bulbs and perennials, a Belgian espalier of fruit trees, a grape arbor, an herb garden, a checkerboard garden, and a "meadow" with naturalized bulbs, native plants, a Domenico Belli sculpture, and a greenhouse. There are many European touches, like rose arbors, window boxes, a fountain, and Anduze pots. There is also a terrace with a wisteria-covered pergola for outdoor dining. A vertical garden of mostly ferns and Heuchera and inspired by Patrick Blanc was installed four springs ago. It has been a steep learning curve and we look forward to when it is mature. Presently, we are enjoying sharing it during its growing pains. Modest in size, our garden is rich in detail and has a great deal of visual appeal. This garden was featured in the 2010 "Best of" issue of Westchester Home magazine.
Learn more on the garden and take a virtual tour at seedsofdesign.com.
Directions: From lower Westchester County and New York City, take Saw Mill Parkway North to Exit 32. Follow signs for Route 120 South through hamlet of Chappaqua. Cross parkway. Turn left at "Y," and then left onto South Greeley, then right onto King Street. Halfway up King Street, turn left onto Castle Road. Look for Samalin Investment Counsel at crossing. House is #76 with post-and-rope railing. Please park on street, staying clear of front of garden, driveway, and walkways.
From upper Westchester County, take Saw Mill Parkway south to Exit 32. Make two right turns and proceed as directed above from Route 120 South.
Open Days 2018: May 19
Hours: 10 a.m. to 4 p.m.
Admission to this garden is $7 for members and nonmembers without tickets purchased in advance.
Buy discounted admission tickets in advance! They can be used at most Open Days to make garden visiting easier.
Nonmembers get 6 visits for the price of 5 with advanced ticket book purchase.
Members get 50% off ONLY by purchasing ticket books in advance.
This garden allows photography
This garden is handicap-accessible
---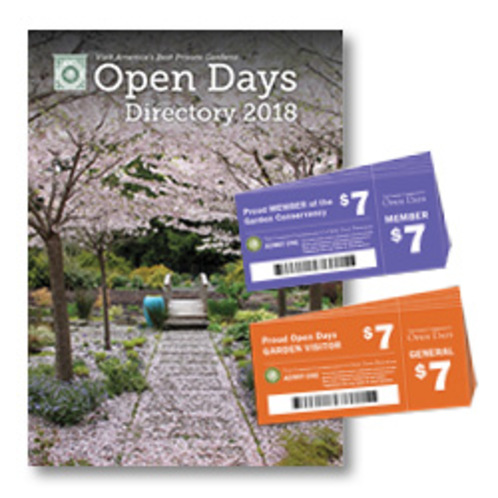 Order Books & Tickets!