Garden of Marshall Watson
East Hampton, NY

Open Days Special Program, Digging Deeper, Plant Collection, Water feature, Edibles, Open Days
Set on a bluff overlooking Gardiner's Bay, this home maintains two gardens. One that is a thoroughfare for a large herd of hungry deer that faces punishing ocean winds and salt, and one that is partially fenced and partially walled. The entire property is transitioning to fully organic. The Charlestonian gates welcome you to the interior designer's garden. A gravel forecourt bordered by a holly stilt hedge, rhododendron bed, and gated potager features a wisteria-draped carriage house/potting shed and a neoclassic gazebo which overlooks the walled garden. Note the log-rounds walkway built from cherry and oak trees felled by Hurricane Sandy. A gentle fountain greets you as you circle around the organic vegetable garden and ascend the Italian inspired-circular stairs. The gazebo is surrounded by cascading maples and a unique euonymus groundcover where variegated irises and allium pop through. As you proceed along the formal gravel entrance, flanked by boxwood and agapanthus, the first of many pear and apple espaliers appears. A Chinese persimmon tree, Chionanthus virginicus bush, and golden climbing rose are set amongst topiary lilacs. The reflecting pool is flanked by two Hakuro-nishiki willow standards which frame the federal doorway of the Greek revival-style house. Versailles boxes are filled with crepe myrtles and variegated holly. A shade garden beneath a magnolia draws your eye up the hydrangea allée interspersed with pink, white, and blue hydrangea (almost patriotic.) Beyond the Chippendale gates lies the sea garden where boxwood, sarcococca, Sargenti cherries, and osmanthus shelter peonies, asters, irises, tamarix, lambs-ear, and other deer-resistant varieties. A sea pebble-walk leads to a large marble table around which comfortable chairs are placed to enjoy the expansive water views. Though Italian influenced in the clipped evergreens and statuary, French influenced in the potager and espaliered trees, English influenced in the blowsy borders and variety of plants, and colonial influenced by its symmetry and formality, it is essentially a new American garden in its eclectic unity. And with many places to sit, lounge, rest, eat and relax, it is ultimately a comfortable garden. www.marshallwatsoninteriors.com
Directions: Drive east on 27/Montauk Highway through East Hampton. Before the windmill and right after Newtown Lane, bear left onto North Main Street. Go under the train trestle. Continue on North Main, through the traffic light, until the road forks. Bear left at the fork onto Three-Mile Harbor Road. Travel several miles past East Hampton Point, past the Bay Kitchen Bar, until you come to a very sharp right turn, or dogleg, at the bottom of the hill. After this dogleg, turn left onto Kings Point Road. Follow this to #253, on the right. The house is on the water. Please park alongside the road next to the garden and gates.
Open Days 2017: June 3
Hours: 10 a.m. to 5 p.m.

Admission to this garden is $7. Don't forget to buy discounted admission tickets in advance. They never expire and can be used at most Open Days to make garden visiting easier.
Digging Deeper event! As part of this Open Day, we'll be holding a special event, "The Art of Elegance—An Afternoon at Home with Marshall Watson. 4 p.m. Click here for registration details.
Save
---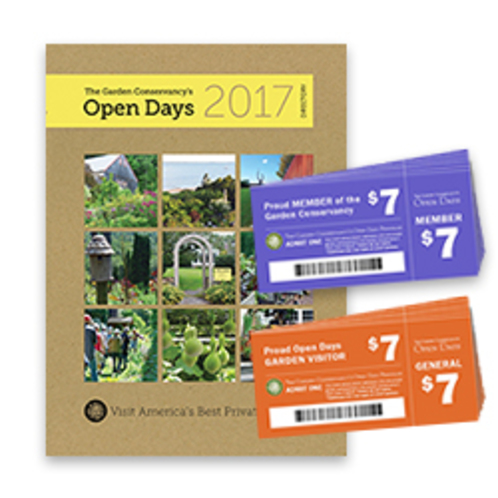 Order Books & Tickets!