Copake Falls, NY

Plant Sale, Water feature, Meadow, Edibles, Organic, Open Days
The garden, about twenty-five years of age, reflects my obsession with plants, particularly those with good foliage or of interest to wildlife, and also my belief that even in Zone 5B, the view out the window can be compelling and satisfying all 365 days. Sixty kinds of birds have been my longtime companions, along with every native frog and toad species, and we are all happy together. Informal mixed borders, shrubberies, frog-filled water gardens and container groupings cover the steep two-and-one-third-acre hillside, a former orchard with a simple Victorian-era farmhouse and little outbuildings set in Taconic State Park lands on a rural farm road.
Read more about Margaret and additional activities at her garden at www.awaytogarden.com.
Specialty growers Broken Arrow Nursery will be on site selling plants during all Margaret's Open Days.
Directions: From Route 22 (5 miles south of Hillsdale, 13 miles north of Millerton) take Route 344 towards Taconic State Park signs. Bear right onto Valley View Road after park entrance and brown store, over metal bridge and past camp. After High Valley Road on left, stay right another 100 feet to green barn and house on left. Parking on High Valley or opposite house.
Hours: 10 a.m. to 4 p.m
Open Days 2017:
May 6
August 19: 11 a.m. native plant lecture by Claudia West of North Creek Nursery, co-author of Planting in a Post-Wild World; 1:30 native-plant gardening workshop with Claudia West. See www.awaytogarden.com for registration information (separate fees required).
Admission to this garden is $7 for members and nonmembers without tickets purchased in advance.
Buy discounted admission tickets in advance! They never expire and can be used at most Open Days to make garden visiting easier.
Nonmembers get 6 visits for the price of 5 with advanced ticket book purchase.
Members get 50% off ONLY by purchasing ticket books in advance.
Save
This garden allows photography
Parking is available
---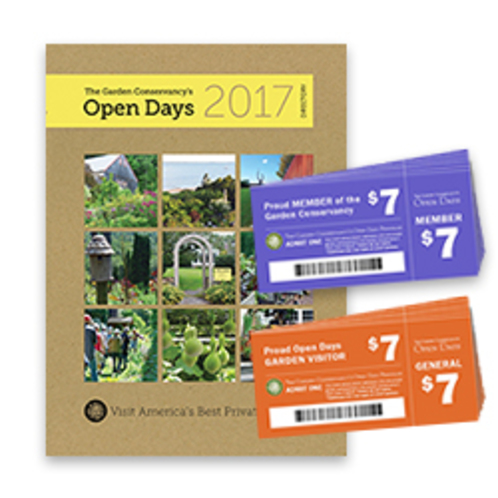 Order Books & Tickets!